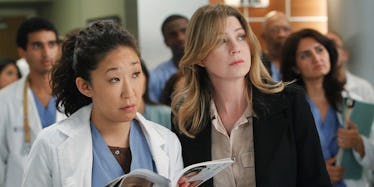 4 Reasons 'Grey's Anatomy' Is Truly The Best Show On Television
Buena Vista Home Entertainment
For 12 seasons, we have followed the lives of the fabulous doctors of the Seattle Grace turned Grey-Sloan Memorial Hospital.
We have been there through death, love, heartbreak and happiness.
We mourned the deaths and cherished the good times.
We watched as the clueless interns turned into trailblazing attending surgeons. We laughed as they laughed and cried when they cried.
On Wednesday, January 6, "Grey's Anatomy" was selected as the winner for "Favorite TV Show" at the People's Choice awards.
Let's look back at some of the key reasons why "Grey's Anatomy" is truly the greatest show on television and extremely deserving of this award.
Ellen Pompeo's acting is a gift to the world.
Nobody has been through more drama or seen more tragedy than Dr. Meredith Grey.
She was abandoned by her father, overly criticized by her mother, had numerous near death experiences and has had many of her friends and family die.
Behind this beautiful, tortured soul is the actress who has consistently been just as incredible as her character, Ellen Pompeo.
Week after week, Pompeo delivers an amazing performance and transformers herself into our favorite surgeon.
She makes us want to be as strong as Meredith and makes us feel every emotion Meredith has.
She is the reason we love Meredith Grey.
Patrick Dempsey is a king among men.
It was the death that broke a million hearts.
With petitions circling around begging for our beloved McDreamy to make his way back from the dead, it was evident that Patrick Dempsey was loved and adored by fans everywhere.
There has been no man in the history of television to be as perfect as Derek Shepherd.
He was a gentleman in every aspect of the word. He was the world's best neurosurgeon, dad, husband and definitely the most attractive man.
Patrick Dempsey portrayed a character that won over every woman's heart, and he brought Derek's good looks.
Thank you Patrick Dempsey for the many years; you are terribly missed.
When Sandra Oh left, she took a piece of us with her.
As much as I loved McDreamy, Christina Yang was the television loss that made my heart shatter and my tears fall.
Even if she is still alive, Christina's move was hard to move on from, and no matter how many sisters they try to bring in and pair up with Meredith, she will forever be the other twisted sister.
She was the other half of Meredith; she was her soulmate.
Christina brought a humor to "Grey's" that no other character is able to do, and she brought the passion for surgery. You could feel how much she wanted to rise to the top and be the best.
Sandra made Christina a character that will forever be missed and remembered.
It's taken fans on an inspirational and emotional journey of a lifetime.
It's hard to keep a show on the air for 12 seasons, let alone keep the audience just as passionate and in love with the characters and show in the 12th season as they were in the first, but "Grey's Anatomy" has done it.
Every Thursday, millions and millions of people tune in to see their favorite surgeons.
"Grey's Anatomy" has inspired many people to go into the health field.
It has sparked debates amongst friends, family and colleagues.
It has covered topics and medical issues that otherwise wouldn't be known or talked about. It has a fanbase that fights for and loves the show and its characters.
If any show deserved to win the People's Choice Award, it was "Grey's Anatomy."
It succeeds in all areas of television. It has well rounded characters, unique and interesting storylines, amazing actors and actresses, awesome music and good direction.
The show teaches us all lessons and brings out emotion that no other show is able to do.
My hope is that "Grey's Anatomy" will run forever. I never want to see the day that it ends and all of my favorite characters are no longer on my television screen.
Congrats to "Grey's Anatomy" and the past and present crew.
This was a recognition well-deserved.