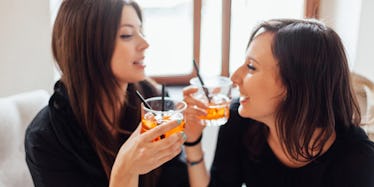 12 Songs To Make Up Your Ultimate Pregame Playlist For The Grammys
Think you're ready for the highly anticipated Grammy Awards on February 15? Think again.
The artists highlighted this year include The Weeknd, Taylor Swift, Ed Sheeran and many more big names. But while you may know the nominees and their most-played tunes up for the coveted awards, let's break it down with a playlist of lesser-known -- but equally deserving -- songs that are sure to get you in the Grammys mood.
Alright, let's do this. Grab a glass of wine, get your speakers ready and be prepared to drink the night away.
PS: We'll be live-tweeting the event all night long @EliteDaily. We'll also be sharing our thoughts on Snapchat @elitedailysnap, so be sure to check us out. See you at 8 pm on February 15, everyone.
1. "Real Life" – The Weeknd
You know "The Hills" and "Can't Feel My Face." (Who can forget when one is bound to be on the radio the second you turn your car on?)
But the opener to his Album Of The Year nominated Beauty Behind the Madness, "Real Life," is quintessentially the Weeknd sound we've come to know and love.
If you're looking for a song to play at your Grammy-themed party that isn't overplayed, this number is sure to get your guests in the mood.
2. "You Are In Love" – Taylor Swift
It's no surprise why 1989 is up for seven Grammys this year. It was, after all, 2014's biggest seller, if not one of music's greatest sellers of all time.
"Blank Space" and "Bad Blood" (the Kendrick remix) are both up for grabs. But the song that should be on your radar is "You Are In Love." It's one of her least-talked about from the album.
You may have not even heard of it if you don't have the deluxe version, or if you've just stuck to the hits. But this slow-paced love song should not only be on your pre-Grammy playlist, it should also be in your favorites.
It's romantic, calming and paired with the sweet T-Swift lyrics that make her the artist she is.
3. "Peanut Butter Jelly" – Galantis
Whatever you choose to call it -- EDM, dance or electro -- this is the music style that's gaining momentum by the hour. It not only has Calvin Harris's or Avicii's name attached to it anymore.
Up for Best Dance Recording is "Runaway (U & I)" by Galantis, but "Peanut Butter Jelly" will make you understand just why dance music is literally everywhere now. The song embodies everything the style is: catchy, uplifting and reason enough to get off your couch and have a dance party.
4. "Keep On Dancin'" – Ellie Goulding
Goulding is up for her "Fifty Shades Of Grey," stuck-in-your-head-for-eternity tune, "Love Me Like You Do." But if you're looking for something else to bop your head to, check out her new album, Delirium.
It missed the cut-off date to be nominated for this year's awards, but it's not to be missed. "Keep On Dancin'" is worthy of attention, thanks to its ear-catching, electro-infused beat.
Really, the whole album is full of pop songs to get you ready for the Grammys, and with Ellie's signature ethereal voice, it's both unforgettable and inspirational.
5. "Thinking Out Loud" (cover) – Tori Kelly
If you want to kill two birds with one stone, here's Best New Artist nominee, Tori Kelly, singing Ed Sheeran's "Thinking Out Loud." Ed is also up for three Grammy awards.
The cover demonstrates why both are nominated. Kelly's effortless voice speaks to your soul, combined with Sheeran's lyrics that do the same.
6. "Fight For Love" – AnDy Wu
Don't know where to start with your Grammy-inspired playlist? Caught between two artists? Well, this compilation of 2015's biggest hits is sure to cure all Grammy-related playlist confusion.
The nearly 10-minute song combines 98 of the past year's biggest hits, many of which are nominated for this year's awards. Even the ones that aren't are still sing along worthy.
Featured tracks on the nominees list include "See You Again" by Wiz Khalifa featuring Charlie Puth, "Glory" by Common and John Legend and "Where Are Ü  Now" by Skrillex, Diplo and Justin Bieber. 
7. "Uptown Funk"– Mark Ronson Featuring Bruno Mars
Don't deny the fact that you still crank the volume up when this Record Of The Year nominee comes on.
At this point, this song is timeless. Bruno Mars is a legend for singing something so freaking catchy.
This one never gets old. It's the perfect song to put on to get you and your drinking buddies in the mood for the night of your lives.
8. "Backseat Freestyle"– Kendrick Lamar
Honestly, you should just listen to all the songs off To Pimp a Butterfly, which is up for Album Of The Year. Kendrick Lamar is killing it with his nominations for this year's Grammy Awards, so it's only right to have his music on before his big night.
I guess we'll have to wait and see if he beats Taylor Swift for a few of the big awards.
9. "Girl Crush" – Little Big Town
Here's one of the Song Of The Year nominees that's perfect for a Grammy pregame. I know it's a little slow and emotional, but who doesn't love drinking to at least one song like this?
It's deep AF, OK? So make sure you add this to your list. Otherwise, you'll be sure to regret it.
10. "Magnets" – Disclosure Featuring Lorde
Since Caracal is nominated for the Best Dance Or Electronic Album, it's only right that you listen to one of Disclosure's top songs, "Magnets," featuring Lorde.
It's an awesome song to jam out to for sure. Also, check out the music video for it before the Grammys start. It'll really get you pumped.
11. "Ex's & Oh's" – Elle King
"Ex's & Oh's" is a nominee for Best Rock Performance, so it should definitely be on this list.
It's upbeat, catchy and really fun to sing along to. So thank Elle King for this one.
12. "Truffle Butter" –Nicki Minaj Featuring Drake And Lil Wayne
This song is up for Best Rap Performance, and it's perfect to get any party started. I'll leave it at that.
You'll have to listen for yourself.
All in all, the Grammys are a night to celebrate both music and the people who made the hit records happen. This playlist is the perfect compilation of tunes to get you in the Grammy spirit, both with some newbies and well-known favorites.
Get ready to "Shake It Off" this Weeknd, while "Thinking Out Loud" about who you want to win. It's the Grammys, after all. Anything can happen.