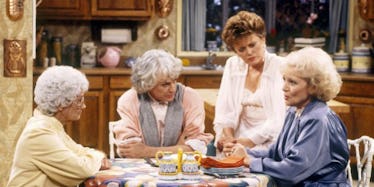 'Golden Girls' Cafe Is Now Open And You'll Want To Order The Cheesecake
REX/Shutterstock
THANK YOU FOR BEING A FRIEND. TRAVELED DOWN THE ROAD AND BACK AGAIN!
Even though "Golden Girls" was cancelled way back in 1992, the show means a lot to me.
I lived vicariously through the retired Florida roomies. I wanted to have the sass of Sophia, the sarcasm of Dorothy, the stories and innocence of Rose and the sex life of Blanche.
Don't believe me? Here is an actual picture of my cake my family and friends gave me at my high school graduation party.
So, you can bet your sweet BIPPY the next time I find myself in New York City, I'll be stopping by a "Golden Girls"-themed cafe called Rue La Rue.
The Washington Heights cafe, which is dedicated to the woman behind Blanche Devereaux, Rue McClanahan, is owned by Michael LaRue. He was a good friend of the southern belle and the executor of her estate.
Because he's executor, Rue La Rue is DECKED OUT in Rue's belongings, even her Emmy.
Mark Bish, McClanahan's son, is also the co-owner of the cafe.
The restaurant opened earlier this month and currently serves breakfast and lunch, but a dinner menu is on the way.
In the mean time, you can enjoy a Betty White coconut cake or salted caramel Bea Arthur cheesecake.
My life will not be complete until I, and my three closest friends dressed as the "Golden Girls," commiserate over cheesecake in this wondrous cafe.
We will throw insults at each other with ease, and we won't be hurt by them because the audience's laughter will soothe our wounds.
We will discuss adult things like having sex after 60, buying condoms without shame, gay children and an ex husband named Stan. I will tell stories of Sicily, despite having never visited there.
*Gently weeps.* Travel down the road and back again...
Citations: Tell your pal and a confidant: The 'Golden Girls' cafe is Instagram heaven (Mashable)