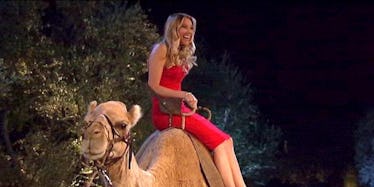 Remember The Girl Who Rode A Camel Onto 'The Bachelor'? She's Headed To Paradise
ABC
This season of Bachelor in Paradise is packed with some of the most popular contestants in the franchise's history, but it'll be even more interesting to see how the men and women we actually didn't get to see a lot of on their respective Bachelor and Bachelorette seasons come into their own with considerably more screen time. Leading this pack is Lacey Mark, an early castoff from Nick Viall's recent season of The Bachelor, who is most notable for entering the show on a camel and making a dirty "hump" joke. Now that we'll be seeing a lot more of Lacey on Bachelor in Paradise, I'll catch you up on everything you need to know about her.
First, let's review Lacey's stint on The Bachelor. The 25-year-old digital marketing manager from New York City made a big splash when she entered the show on a camel, but unfortunately, that was also the height of her Bachelor experience. She wound up getting sent home on the second week without getting to spend that much time at all with Nick or in front of the cameras.
But Lacey made up for her lack of screen time in the Women Tell All reunion special. She spoke up and called Nick out for talking about other women during his one-on-one time with her, to which he retorted it was because he wasn't feeling anything with her. Ouch. Clearly, things just weren't going to work out for Lacey with Nick, so it'll be nice for her to have more options in Paradise.
Other than that, there's only a few more things to know about Lacey. Like the other cast members of Bachelor in Paradise, her Instagram reveals she hangs out with other members of Bachelor Nation a lot, and that she has brown dark brown hair now instead of the blonde she rocked on The Bachelor. Her social media also reveals she's also a huge sports fan, particularly hockey, so if any of the guys on Paradise are also sports nuts, she may be the perfect match. Since we haven't seen a lot of her before, Lacey is definitely a wild card on BIP, which is pretty exciting.
Bachelor in Paradise premieres Monday, August 14 on ABC.