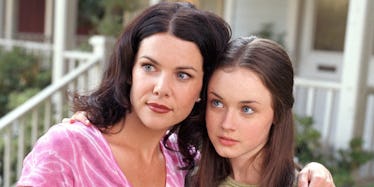 OMFG: A 'Gilmore Girls' Reunion Might Finally Be In The Works
Warner Bros. Television
Big news, "Gilmore Girls" fans. A cast reunion may be happening in the not-so-distant future.
Scott Patterson, the actor who played Luke Danes on the show, recently appeared on the "Gilmore Girls" podcast and spoke about the potential plans.
Patterson said,
I will say this, there are talks going on at the moment. I can't really go into any details, but there is some activity. I'm hopeful, and I'm in. I think it would be a big event, and I think it would be a great fan celebration.
That's pretty vague, so at this point, consider this wishful thinking.
However, the cast is expected to be together at the ATX Television Festival in Texas next month.
Let's hope Patterson was talking more about an actual TV show rather than a one-off reunion at a festival.
Only time will tell.
Citations: A Gilmore Girls Reunion Could Be Heading Our Way (TIME)