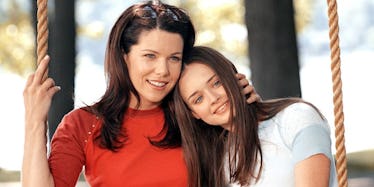 5 Reasons 'Gilmore Girls' Will Always Be The Best Series To Binge-Watch
Warner Bros. Television
Hold on, *sobbing.* "Gilmore Girls" returns soon.
Where you lead, I will follow, right? Gilmore fans will forever follow the sarcastic, energetic, hilarious, mother-daughter duo forever. What isn't there to love?
Each episode tests your emotions by making you laugh and cry, letting all the feels get to you and forcing goosebumps.
If you're a sad excuse for a human being and haven't watched the Gilmores walk around Stars Hollow and drink coffee from Luke's, you need to get on that. "Gilmore Girls" has been available on Netflix for a while now, so start binging before the new season on November 25. You think that sounds impossible? Trust me, it's not.
Pause "Once Upon A Time," hold learning how to make meth on "Breaking Bad" and tell "Daredevil" you'll watch him fight later on.
"Gilmore Girls" has to be your first and only priority and here are five reasons why:
1. It's hilarious.
The relationship between Lorelai and Rory will do nothing but make you want to be a part of their little family.
They have answers for everything, and many of them include references to pop culture and the funny parts of life itself. If your favorite funny character isn't Lorelai or Rory, Sookie has to be your pick. Everyone knows who Melissa McCarthy is, so I don't have to explain why she's a funny character.
Other characters have the ability to make you chuckle as well: Luke, Emily, Lane and Michel, of course. You'll agree once you start watching and get to know them.
2. The feels.
There have been many shows that make you "feel" beyond belief, such as: "Parenthood" and currently, "This Is Us." But there will never be the same type of feels as the "Gilmore" feels.
The adorable family dynamic gives you a taste of dysfunction, and a bite of love. There are characters you'll have a love/hate relationship with (I'm looking at you, Emily) and others you'll absolutely adore (Richard).
The show manages to tug at your heartstrings in ways other shows can't quite do, and you'll thank them for that.
3. The eye candy.
It might be superficial to add this to the list, but it's true. Ridiculously good-looking people make up the cast of "Gilmore Girls."
We'll start with Rory's boyfriends: her first boyfriend, Dean, is the tall, dark, longhaired and handsome boy that Rory first falls in love with. You'll want to pull a Regina George and ask everyone "doesn't his hair look sexy pushed back?"
Jess stole the hearts of many with his adorable face, slanted lip and bad-boy demeanor and we can't forget Logan. Logan was the boyfriend later in Rory's life who you'll also have a love/hate relationship with.
Lorelai's men are pretty hot too, but the one you'll love from the beginning is, of course, Luke.
4. It's a throwback.
Admit it, you're guilty of blasting '90s music while cleaning or getting ready in the morning. Throwbacks are the best.
"Gilmore Girls" is one big throwback if you're starting the show from the beginning. The flip phones, clothing and even some of the "lingo" will really take you back.
5. It's relatable.
Shows you can relate to are always the good ones. We all find ourselves enjoying songs that relate to our lives, and shows that relate to our lives are even better.
Growing up, I watched "Gilmore Girls" and related my life to the show in both good and (sometimes) unfortunate ways. Although the unfortunate ways sound like they sucked for me, they did and they didn't.
Because of the show, I was basically able to see that life isn't always going to go the way you want it to and that's OK.
So, now you know all the details and I know you're already dying to get home and start watching. Well, go for it!