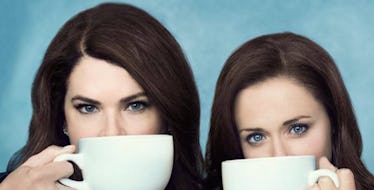 'Gilmore Girls' Coffee Exists IRL So You Can Feel Like You're At Luke's, Too
Netflix
Like most of us diehard caffeine addicts, Lorelai and Rory Gilmore can be found with a cup of coffee in hand on the reg.
It would simply be super out of character for them not to be sipping their beloved coffee in every single episode of "Gilmore Girls."
Honestly, how could they even manage to get through the day?!
Whether Lorelai and Rory are casually taking a stroll through the charming town of Stars Hollow, or vacating their regular table at Luke's Diner, the Gilmore girls are constantly enjoying this delicious beverage of choice.
The second photo posted on the "Gilmore Girls" Instagram account was, appropriately so, of two steaming, hot mugs of coffee.
The caption reads,
Like all good things, we gotta start with a cup of Luke's coffee. Welcome to the Gilmore Gram.
Ooooh snap, am I hardcore craving a warm cup of Luke's coffee ASAP.
But NOW we can basically all feel like we're chilling in Luke's Diner with the Stars Hollow squad because "Gilmore Girls" coffee actually exists.
Online coffee subscription service Boca Java is representing the "Gilmore Girls" fandom through coffee, and it really couldn't get any better than that.
This epic subscription is called "Stars Hollow Coffee Club," and there are five fitting flavors to choose from.
The names will give you MAJOR FEELS.
Will your roast of choice be "Luke's No-Nonsense Special," "Mrs. Kim-Approved Dark Roast," "Sookie's Gourmet Blend," "Taylor Doose's Town Meeting" or "Stars Hollow Autumn Festival"?
Maybe you'll even splurge and buy them all to hype you up as you prepare for the "Gilmore Girls" revival next month.
Decisions, decisions.
You can get your coffee delivered every two or four weeks to your front door… so drink up!
Citations: There's Actually Gilmore Girls-Inspired Coffee for Caffeine Binging Now (Time)