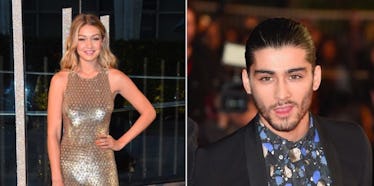 Here's What Gigi Hadid And Zayn Malik's Future Babies Will Look Like
Getty Images
Guys, it's official. Gigi Hadid and Zayn Malik are dating and the Internet is freaking out. Sorry Joe Jonas, we feel for you, but we're also really feeling this new couple.
I know things just started to get heated between these lovebirds, but I thought we might as well jump the gun and get right to the good stuff. For example, I think Gigi and Zayn would have beautiful, beautiful babies.
Gigi is gorgeous and Zayn is a male model so I think it's about time we think about the future, AKA the future generation of attractive beings.
I've taken the liberty to morph photos of Gigi and Zayn's faces together so we can all get a better understanding of exactly HOW beautiful these children will be.
I first decided to morph the faces of Gigi and Zayn when they were children, and then I morphed their present-day faces. It's whatever, judge me.
Here's little baby Zayn. Isn't he just the cutest bundle of joy? What a throwback.
And here's baby Gigi. She legit just came out of the womb in this pic and still looks like a model. Cool, I was just a 9-pound blob of fat, it's chill.
Here is a photo of the two baby faces combined. SEE? WHAT A BEAUTIFUL GODDAMN CHILD. With Gigi's lips and Zayn's eyes, this kid is already stunning.
Take a few steps back from your computer to really get the full effect.
OK, OK, now look at present-day, grown-up, 22-year-old Zayn Malik. Um yeah, handsome isn't he?
And take a look at present-day, 20-year-old Gigi Hadid. Yup, v nice.
NOW LOOK AT THEIR FACES MORPHED TOGETHER TO CREATE THE ILLUSION OF AN EVEN SEXIER BEING AKA WHAT THEIR FUTURE BABY ALL GROWN UP WOULD MAYBE POTENTIALLY LOOK LIKE?!?!!
*Mic dropped*
I'm out, welcome to the world baby Malik. Peace.