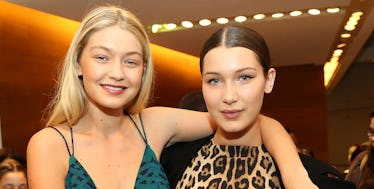 Gigi Hadid Just Posted The Sweetest Birthday Message For The Weeknd
Getty Images
Happy birthday, The Weeknd!
After his amazing performance at the Grammys last night, The Weeknd is already having an amazing week.
He showed up to the red carpet yesterday looking flawless with his girlfriend, Bella Hadid, and today he got to spend the day celebrating the big 2-6.
Gigi Hadid went to Instagram to wish her brother-in-law (too soon?) a special happy birthday.
She posted this photo and wrote an extremely sweet message, too.
The caption reads,
Happy Birthday A! Thanks for lovin my sis like you do. You have so much to celebrate tonight, beyond proud of you! XO 
Isn't that adorable? It looks like big sis Gigi is super supportive of Bella's relationship.
If only The Weeknd's birthday was actually on the weekend... then things would really be crazy.
HBD, A! We're proud of you, too.