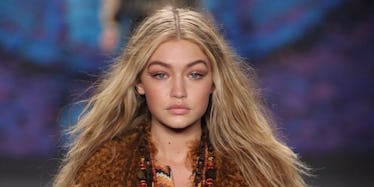 Gigi Hadid Calls Out Magazine For Using This Photo Of Her On Its Cover
Shutterstock
Oh, snap.
Gigi Hadid went to Twitter today to post her frustration with a magazine using her image without permission.
Girlfriend mag added a photo to Instagram of its May issue cover model, Gigi Hadid, except there was one problem...
The Instagram's caption read,
We're honoured to have the one and only @gigihadid on the cover of our May issue ON SALE TODAY!!! We've also got ALL things #Allegiant, how to get fit in just 5 minutes and it's time to vote in our first EVER beauty awards
But apparently, the photo is an old stock image Gigi never approved. ~DRAMA~
Around noon on Wednesday, the 20-year-old model tweeted,
Shortly after, the tweet was deleted. Either way, it looks like Girlfriend mag messed with the wrong model.