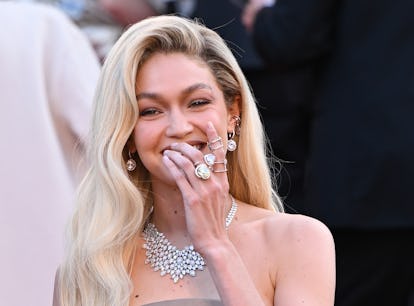 Gigi Hadid's Response After Getting Arrested For Weed Is Peak IDGAF
Stephane Cardinale - Corbis/Corbis Entertainment/Getty Images
Gigi Hadid isn't about to let anything harsh her chill vacay vibes, not even a pesky arrest. The supermodel was recently arrested for marijuana possession during a trip to the Cayman Islands, and had the best way of dealing with the news coming out. Hadid's Instagram after her marijuana arrest is proof that she's the ultimate champion of the IDGAF war.
On July 17, local outlet Cayman Marl Road reported that Hadid and her travel buddy Leah McCarthy were arrested upon arriving on the islands a week prior. The report stated that customs officers found "ganja and utensils used for the consumption of ganja" in Hadid and McCarthy's luggage during a search of their private plane. They were then arrested, but quickly released on bail. After pleading guilty to the possession charges in court, they were each fined $1,000 and were free to enjoy the rest of their vacation.
Hadid's rep emphasized how surprising the charge was for the model in a statement to Rolling Stone. "Gigi was traveling with marijuana purchased legally in NYC with a medical license. It has also been legal for medical use in Grand Cayman since 2017. Her record remains clear and she enjoyed the rest of her time on the island."
It might not have been the perfect start to a tropical getaway, but Hadid clearly didn't let it get to her. Shortly after news of the arrest broke, Hadid posted a cheeky photo dump of her carefree vacay with the caption, "All's well that ends well."
McCarthy's caption for the trip was even more... blunt. "Being this cute? Guilty on all charges," she wrote under her IG carousel, which she posted at the same time as Hadid.
According to the local report on the arrest, Hadid and McCarthy did not bring an excessive amount of marijuana with them. "The quantities were relatively small and were seemingly for personal consumption," Cayman Marl Road reported. Though Hadid did have to pay her fine, no conviction was placed on record. And luckily, it looks like she's able to laugh about the incident already.