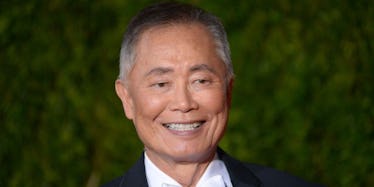 George Takei Says Sulu From 'Star Trek' Being Gay Is 'Really Unfortunate'
REX/Shutterstock
It turns out George Takei is really against his old "Star Trek" character, Hikaru Sulu, being gay.
I admit, I really did not see this coming.
At a promotional event in Australia earlier this week, John Cho, who plays the character of Sulu in the reboot film series, confirmed Sulu would be revealed to be gay in "Star Trek Beyond."
George Takei, the 79-year-old actor who played Sulu in the original television series, told The Hollywood Reporter he thought the move to make Sulu gay was "really unfortunate," as it was disrespectful to the show's creator, Gene Roddenberry.
Takei said,
I'm delighted that there's a gay character. Unfortunately, it's a twisting of Gene's creation, to which he put in so much thought. I think it's really unfortunate.
Gene Roddenberry's original "Star Trek" series was known for pushing the boundaries of diversity on television and Takei came out as gay in 2005 and is known for his activist work in the LGBT community.
So many fans felt this decision from "Star Trek Beyond" writer Simon Pegg and director Justin Lin was an appropriate and exciting step forward for queer representation in a major franchise.
However, it appears Takei does not agree.
When John Cho first called Takei to tell him in the news, he was very much against the idea of a queer Sulu and told John not to do it.
Takei said,
Be imaginative and create a character who has a history of being gay, rather than Sulu, who had been straight all this time, suddenly being revealed as being closeted.
Takei also appealed to director Justin Lin and said he felt the moviemakers were going to listen to his concern at the time. He said,
I said, 'This movie is going to be coming out on the 50th anniversary of Star Trek, the 50th anniversary of paying tribute to Gene Roddenberry, the man whose vision it was carried us through half a century. Honor him and create a new character. I urged them. He left me feeling that that was going to happen.
He later received a letter from writer Simon Pegg, which further made him believe a gay Sulu was not going to happen. Takei said,
I really tried to work with these people when at long last the issue of gay equality was going to be addressed. I thought after that conversation with Justin that was going to happen. Months later, when I got that email from Simon Pegg, I was kind of confused. He thinks I'm a great guy? Wonderful. But what was the point of that letter? I interpreted that as my words having been heard.
So it sort of sounds like the filmmakers misled Takei in what he thought would happen to his old character.
Writer Simon Pegg defended his decision to make Sulu gay in a Tumblr post, saying,
He's right, it is unfortunate, it's unfortunate that the screen version of the most inclusive, tolerant universe in science fiction hasn't featured an LGBT character until now.  We could have introduced a new gay character, but he or she would have been primarily defined by their sexuality, seen as the 'gay character,' rather than simply for who they are, and isn't that tokenism?
Read the full response here.
It's a very odd situation. Obviously, it's not Takei's job to support the decision just because he's gay, and it's a bummer he wasn't kept informed about the process.
However, I agree with Simon Pegg and find Takei's argument against a gay Sulu is weak at best.
It's impossible to prove Sulu's sexuality from the original canon of the show — there is never a love scene or mention of a girlfriend in the show's original three seasons.
Moreover, it has already been established in the reboot film series they are following a separate timeline from the original canon. Chris Pine's Jim Kirk has a very differently personality than William Shatner's — so why shouldn't Sulu's sexuality have some flexibility as well?
And as much as I would love a whole new queer character added to the "Star Trek" roster, he or she simply wouldn't have the same impact that a well-known, original character has.
George Takei, I respect the hell out of you. But I just can't agree with you on this.
I'm looking forward to a queer AF Sulu in the upcoming "Star Trek" movie!
Citations: George Takei Calls Star Trek Beyond's Gay Sulu 'Really Unfortunate' (People)