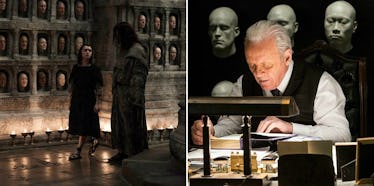 A 'Game Of Thrones' And 'Westworld' Crossover Could Actually Be Happening
HBO
Hold on tight, kids, because two of your favorite HBO shows are about to join forces to make one epic series.
According to reports, a "Game of Thrones" and "Westworld" crossover could be on its way to TV screens, and it looks like "A Song of Ice and Fire" author George RR Martin is the driving force behind the proposed mashup.
For those of you who don't know, "Westworld," HBO's latest hit, is a lot like "Game of Thrones," except for the fact it has a Western setting and robots instead of dragons.
Don't worry, though, because just like "GoT," "Westworld" has enough sex, brutality and brilliant characters to keep you on the edge of your seat for the entirety of every episode.
According to reports, the crossover between the two HBO hits would occur in Medieval World, and in lieu of cowboys, the spinoff would have androids designed off "Game of Thrones" characters.
Still with me? I know, it's a bit, uh, out there.
Apparently, George RR Martin brought up the idea for this crossover to "Westworld" showrunners Jonathan Nolan and Lisa Joy while having dinner a few months ago.
So, what do the "Westworld" people think?
According to Entertainment Weekly, Jonathan Nolan said,
We love George and our daughter's first trip anywhere in the world was out to Santa Fe for a screening of 'The Prestige' at his theater, the Jean Cocteau. He's a lovely guy and a stunning writer and it's flattering he would encourage a crossover. We should be so lucky.
"WESTWORLD" MEETS WESTEROS, Y'ALL!
We would be the lucky ones, Jonathan.
Obviously, we're still a long way away from any sort of crossover actually materializing, what with the rest of the "Game of Thrones" books still needing to be written and "Westworld" barely four episodes in, but we can dream, can't we?
I just want to get stoned and watch robots and dragons and knights and bandits duke it out for global domination. Is that too much to ask?
Citations: George R.R. Martin And The 'Westworld' Creators Discussed A 'Game Of Thrones' Crossover (UPROXX)