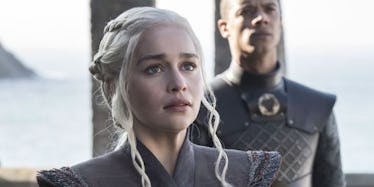 Next Week's 'Game Of Thrones' Trailer Proves Daenerys Is In For A Rude Awakening
HBO
At the end of every episode of Game of Thrones comes the "next time" trailer. But what glimpses do we have for next week's episode?
Well, first of all, news of Dany's arrival seems to be spreading, and everyone is talking trash about the newest Targaryen on the block.
As a reminder, here's the synopsis for next week's premiere episode:
Daenerys receives an unexpected visitor. Jon faces a revolt. Tyrion plans the conquest of Westeros.
Check out the trailer:
1. A Targaryen Cannot Be Trusted
Well, at least that's what the Northern lords are telling Jon Snow. Sounds like she might have sent a raven after all? (Here I was hoping Sam's raven would beat her to the punch. It must be those budget ravens they make the interns use.) Or perhaps word of her arrival just reached them. Either way, we all know Jon's going down there as soon as he hears the word "Dragonglass."
2. The Mad King's Daughter
Cersei is also using Dany's arrival, and from the looks of who she's speaking to, it's in order to whip her vassals into line. Not just her vassals either. I'm pretty sure I see Lord Tarly in there; he's technically Olenna's vassal. Looks like someone might be breaking ranks?
3. Yara Wants War Now
A big meeting of the minds taking place up in Dragonstone. It's a bit of shadowplay to identify everyone, but I spy with my little eye: (clockwise) Olenna Tyrell (seated) Varys, Greyworm, Missandei, Tyrion, Dany, Yara, Ellaria, and Theon against the wall.
4. And Now: Quick Shots!
Riders ride out, a direwolf snaps at Arya (NYMERIA, CAN IT BE?), a fight shot, Sansa looking pensive, Yara making out with a lady, Varys and Dany looking round, and someone just shoved Littlefinger up against a wall. I approve of that one.
Next week is going to be badass.