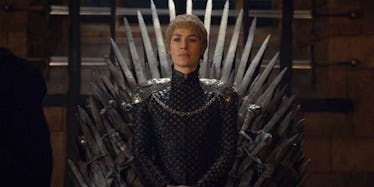 IKEA Employee Created A 'Game Of Thrones' Toilet That's An IRL Iron Throne
HBO
"Game of Thrones" characters don't exactly have the best track record with sitting on the Iron Throne or toilets.
For the case of the Iron Throne, one needs only to look at everyone who has died while ruling on it (which is, by rough estimation, like a million people).
For toilets, one needs only to consider Tywin Lannister, who died mid-poop (and amid poop).
Well, the middle of the Iron Throne and toilets' Venn diagram is this glorious bathroom arrangement created by a very prodigious (and, more likely, very bored) IKEA employee.
IKEA does some French wordplay with Game of Thrones from funny
In a comment, Reddit user rpmdebslack, who posted the photo, explained the double entendre at play in IKEA's wording,
'Monter sur le trône' literally means 'sitting on the throne.' It also means going to the toilet (figuratively). The question is hence: Would you dare sit on the throne (go to the toilet)?
Hmm. Let me think about that question, rpmdebslack.
Hell no. That's what I think about the idea of having an Iron Throne-themed toilet just lying and waiting for me to croak.
Let's take another look at this thing.
Sure, I'd be able to clean my toilet 10 times over and yes, it looks really cool when the toilet is arranged this way, but the potential curse of having an Iron Throne so close to my genitalia?
Yeah, no thank you.
I'll be completely honest. I'm a huge "GoT" fan, but I'm also a fan of not associating myself with items that may or may not be cursed.
Seriously, whoever sits on the Iron Throne is probably going to die at some point in the very immediate future.
However, that being said, I have the utmost respect for whoever has created this. They deserve a raise.
And maybe some wine.
Citations: An Ikea Employee Made a 'Game of Thrones'-Inspired Iron Throne Toilet Display (Teen Vogue)