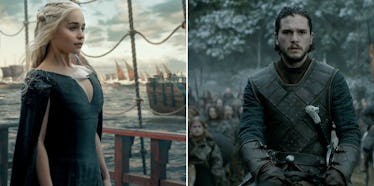 New Photos Prove That Massive 'GOT' Leak Is Even Bigger Than We Thought
HBO
WARNING: Massive "Game of Thrones" spoilers ahead.
Over the weekend, the internet damn near lost its mind after leaked photos from the set of the seventh season of "Game of Thrones" appeared to all but confirm Daenerys Targaryen and Jon Snow are going to have en epic meeting.
The above encounter reportedly took place in the Basque region of Spain, where much of the filming for the seventh season of "Game of Thrones" is currently taking place.
The photo of Daenerys Targaryen and Jon Snow together is epic enough in its own right, but Monday, Watchers on the Wall published a slew of new videos that suggest the epic meeting between Dany and Jon is really just the beginning.
The meetup between the two main characters is supposedly going to happen in "Dragonstone," which some are speculating will become Dany's seat of power until she decides to invade King's Landing -- with Jon Snow's forces?
Well, despite the tight security surrounding the filming, the following photos appear to show a meeting between Jon Snow, Davos Seaworth, Tyrion Lannister, Missandei, Snow's soldiers and Dany's Dothraki guards.
In addition to that photo, there are also several videos that appear to show the meetings between the above mentioned characters, as well as what the shores of Dragonstone will look like.
In case these videos aren't enough for you, ya greedy "Game of Thrones" bastahds, it appears another fan favorite is also going to make an appearance at the epic season seven encounter at Dragonstone.
Alfie Allen, who plays Theon Greyjoy, was reportedly spotted leaving his hotel in Bilbao, Spain, which is apparently very close to the beaches where the above videos were taken.
Yeah, it's all about to go down in season seven. But while it's awesome to get new information on what will transpire on "Game of Thrones," I can't help but also feel upset knowing just how far away we are from the debut of season seven.
I guess you can't have your cake and eat it, too.
Citations: Filming kicks off in Zumaia & MAJOR SPOILERS leak out despite tighter security (Watchers On The Wall)