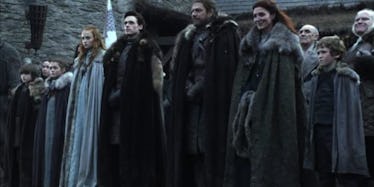 Sorry 'Game Of Thrones' Fans, You Won't See These Characters In The Prequels
HBO
With two of the remaining thirteen episodes of Game of Thrones already down, and the show finishing its run by 2019, fans are anxious for any news on the potential follow-up prequels that HBO is working on. So much so that it was one of the first questions HBO President Casey Bloys fielded at the HBO presentation on the afternoon of July 26 at the Television Critics Association (TCA) press tour.  The question we all want to know: Who is coming back for the Game Of Thrones' prequels?
His answer? Not nobody! Not no how!
Let us be clear: There is not one, not two, but five different spin offs, all of which are currently in some sort of pilot writing stage. These scripts will then square off in some sort of bizarre put-to-pilot battle royale, with one script coming out victorious over all others to be greenlit to series and continue the legacy of Westeros. (Actually, now that I say it, that would be a *really awesome* reality series for TV critics and geeks to nerd out over.)
That's five, count 'em, five different time periods along the Westerosi timeline.
All the new series could occur anywhere between 10,000 BC, when the Children and the First Men first faced off over who would control Westeros, and 283 AC, which is when Robert's Rebellion successfully sacked King's Landing and overthrew the Targaryens.
And there's no way there's any kind of crossover of any character or actor anywhere?
Now, it makes sense that say, Jon Snow will not appear in any of these spin offs, or Daenerys Targaryen, or Samwell Tarly. These are main characters who live in the Westeros, here and now. None of them were born prior to Robert's Rebellion, and none of them would have any reason to appear in a prequel.
But there's also a few who definitely do.
But let us consider characters like the Three-Eyed Raven, who was most recently played by Max von Sydow.
While Bran may have witnessed the mystic's final days, there is a sense, both in the show and in the books, that this is a character who has been (for lack of a better term) Westeros' institutional memory for centuries. And there are other characters who have lived ridiculously long lives — like Melisandre, who, as we learned at the beginning of Season 6, is probably somewhere in the 400-year-old range.
Then there's a character like Leaf.
She's one of the Children of the Forest, and we *actually saw* her alive and kicking all the way back in that 10,000 BC period of the war between the Children and the First Men.
It's hard to imagine that we would have a character go north of the Wall in a prequel -- perhaps in search of the Three-Eyed Raven -- and not run into her crew.
Of course, it could be that all five of these prequels are set in such time periods and parts of Westeros that no one would be going north of the Wall. (Heck, one could be set pre-8,000 BC, prior to the Wall being built.) But it seems very strange that the show would cut off any sort of crossover casting in such a hard and fast manner, when so many possibilities are up in the air.
Tragic, I tell you. I'm going to have to console myself with wolf carbs.