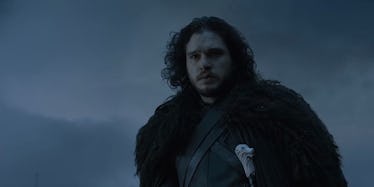 This 'Game Of Thrones' Bar Will Keep You Warm When Winter Finally Comes
Send out the White Russians because winter is here!
Oh did I say White Russians? I meant White Ravens.
Anyway, there is a new "Game of Thrones"-themed pop-up bar in Edinburgh, UK, and people are rightfully freaking out.
This month-long event, aptly named Blood & Wine, was started by The Pop Up Geeks and takes place in the Gothic-style basement of Daylight Robbery – a well-known little gastropub in Scotland.
It's perfect because as we know, "Game of Thrones" films in Scotland.
Remember that place? I'll give you a hint, it's Winterfell from the pilot episode in season one, back when Ned Stark's head was still on his shoulders.
The Blood & Wine event began on January 4 and happens every Wednesday and Thursday, so be sure to stop by if you just happen to be in Scotland.
The menu boasts a very special collection of wines and liquors -- all of them can be found within the pages of George RR Martin's top-selling books.
Also if you're in the mood for a bite to eat, the menu features freshly baked Frey pies. (Although, if you're caught up on the show, you might want to pass on that.)
If you look closely, you can almost see a toe.
And you can add "Queen of Bathrooms" to Daenerys Targaryen's long list of unnecessary names.
The world's desire for anything "Game of Thrones" is never satiated -- especially now that George RR Martin has promised LITERALLY NOTHING about the release of the sixth installment of his "Game of Thrones" series, "Winds of Winter."
In the most recent post to his Live Journal page, Martin said,
Not done yet, but I've made progress. But not as much as I hoped a year ago, when I thought to be done by now. I think it will be out this year. (But hey, I thought the same thing last year).
How dismal.
So until then, audiences everywhere will just have to hang out in cool "Game of Thrones"-themed pop-up bars and wait until late summer to learn anything new.
Citations: Buzzfeed