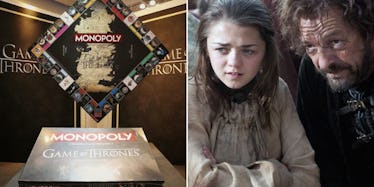 You Win Or You Die: 'Game Of Thrones' Edition Of Monopoly Is Coming
Twitter/HBO
In anticipation of the fifth season of "Game of Thrones," HBO announced there will be a "GoT" version of the classic board game Monopoly.
The game will include such noteworthy properties as Castle Black, Winterfell and King's Landing.
There will also be tokens such as a White Walker, a direwolf, a three-eyed raven and the Iron Throne. Villages and keeps will take the places of houses and hotels, respectively.
The game will be released sometime this year and will allow fans to delve deeper into the world of Westeros.
I know what I'll be doing on Sunday nights this spring.
"The Iron Bank is the Iron Bank." Coming in 2015, Monopoly #GameOfThrones edition: http://t.co/UBuXb0iqcc @usaopoly pic.twitter.com/fubi9rdgKz — Game Of Thrones (@GameOfThrones) February 13, 2015
Citations: Game Of Thrones Monopoly Is Coming (Huffington Post)