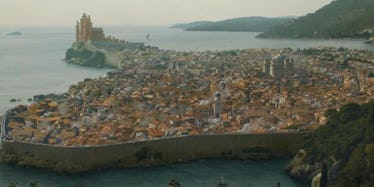 Winter Came To The Real-Life King's Landing City From 'Game Of Thrones'
Reddit
If you're an avid "Game of Thrones" viewer, you've likely had dreams about being able to visit the beautiful King's Landing one day.
The capital and the largest city of the Seven Kingdoms is just one of the many fascinating things about the award-winning HBO drama series.
King's Landing is known for its brutally hot temperatures compared to Winterfell, which is known for its frigid, icy temperatures. But what if I told you King's Landing actually got some snow this week?!
No, this isn't a season seven spoiler. Don't worry, I'm not that cruel.
It turns out Dubrovnik in Croatia experienced snowy weather this month. If you're a "GoT" fanatic, you know that Dubrovnik is the very location where scenes for King's Landing are filmed.
Not only is this a big deal because it's related to your favorite drama series, but Dubrovnik hasn't gotten any snow in eight whole years, according to DailyMail.com.
Here's what Dubrovnik has looked like for the last eight years.
It looks familiar, doesn't it?
Well, it recently snowed in the Croatian city, and now it looks like King's Landing is covered in snow.
Winterfell, is that you?! Nope.
While it has yet to snow in Westeros, these photos make it quite clear it will be a sight to behold when it does.
Personally, I hate snow but that could just be due to the fact I had to experience winter in NYC for a decade... But this?!
This looks worth the misery.
These days, Dubrovnik serves as a go-to destination for true "Game of Thrones" fans.
The city was said to have attracted over a million tourists just last year alone, and it really is NOT hard to see why.
Now's the time to add visiting Dubrovnik to your bucket list. Good luck on getting there when there's snow on the ground, though!
Citations: King's Landing From "Game of Thrones" Is Covered in Snow (HouseBeautiful)