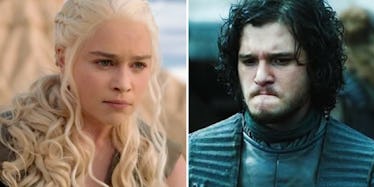 Emilia Clarke Shuts Down That 'Game Of Thrones' Theory About Daenerys And Jon Snow
HBO
RIP to the perfect Game of Thrones super couple that never was.
Since early on in the epic fantasy saga, fans have shipped Mother of Dragons Daenerys Targaryen with Commander of the Night's Watch Jon Snow — in fact, many believe their union is what the mysterious subtitle, A Song of Ice and Fire, actually alludes to.
But now it sounds like Emilia Clarke is dashing our hopes of Dany and Jon becoming a couple in the series. The actress told Style Magazine she doesn't believe Daenerys would ever team up with a man to share the Iron Throne.
I think that she has ultimately put aside her own need for a man. She is so engaged and wrapped up in leading and being the queen and ruling and fulfilling her birth right that the idea of someone coming in and sharing that title is probably something she's not comfortable with.
Sorry, Jon.
It's a particularly stinging blow to fans now, since many expected this to be the season where Jon and Dany finally meet at long last. Last season teased fans by confirming the popular R + L = J theory that would make Jon the only other living Targaryen aside from Dany.
And some fans even noticed one quick scene in the Season 7 trailer that may suggest Jon finally learns about his Targaryen parentage in the new season. So it looked like all signs were pointing towards a Dany-Jon union, but I guess that's not going to happen?
Unless Clarke is just trying to throw us off the scent. I mean, it does seem pretty clear the ice and the fire in A Song of Ice and Fire has to refer to Jon Snow and Daenerys, right? And most hopeful of all: Some fans have found leaked footage that seems to show Jon Snow and Daenerys meeting in Season 7:
So perhaps they finally do meet up this season, but from Clarke's statement, it sounds like they won't really be working together just yet.