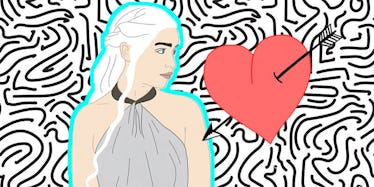 This Quiz Will Tell You Which 'Game Of Thrones' Character Is Your Soulmate
Kylah Benes-Trapp
If there's one thing we can learn from "Game of Thrones," it's you should never get too attached to anyone whose destiny is in the hands of George RR Martin.
However, that's a lot easier said than done.
All the lords and ladies on this hit HBO show are so damn dreamy it's almost impossible to get through a few episodes without catching some feelings and picture ruling the Iron Throne with your soulmate by your side.
Yep, whether you're into charming knights, manly warriors, beautiful queens or badass blondes, there's a character on this show who is sure to make every "Game of Thrones" fan fall head-over-heels in love.
But have you ever wondered which one of your crushes from the Seven Kingdoms is your perfect match?
Luckily, you no longer have to because we just created a handy quiz that will match your personality with the Westeros resident of your dreams.
Just don't invite the Frey's to your ceremony, we don't need a repeat of the Red Wedding.
Take the quiz below to see which "Game of Thrones" character is your soulmate.