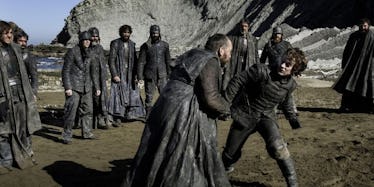 'Game Of Thrones' Releases Casting List For Season 8, Teases 7 New Characters
HBO
We're only a few days away from Game of Thrones beginning their final year of filming ahead of the last season. The scripts are done. The directors are hired. The main cast is wrapping up their other projects and getting ready to head to Belfast. But, as the show has done every year, to help replace those who pass the year before, new characters arrive. Even this late in the game, the show is once again pulling out a Game of Thrones Season 8 cast list, giving us clues and insights into the final people we'll be meeting in Westeros.
Not that an Olenna or a Littlefinger level character is expected to rise at this late date. Gone are the days of Alexander Siddig casting announcements, though last year did see Harry Potter actor Jim Broadbent in a small but significant guest star turn, so you never know. The parts being cast for the final season to fill in the gaps may be smaller, but they do give us hints of where the plot may be going, and who will turn up.
The biggest hint comes from the first one:
Mercenary
Mercenary, aged 35 – 50: "authoritative, fit, cool and charismatic military type." Two episode appearances. Rehearsal in October. Shooting week of Dec. 11, and again in May, June 2018.
A "mercenary leader" who will appear in multiple episodes and has a decent amount of rehearsal time scheduled before filming. Sounds like we've found ourselves proof that the Golden Company will be brought over by Euron after all. Lena Headey confirmed she's back for Season 8, as did Mark Gatiss, who plays Iron Bank representative Tycho Nestoris.
With Bronn actor Jermone Flynn contractually obligated to never show up in the same scenes as Headey due to a bad breakup, it sounds like Tycho will be her sidekick, and the army he's spending money on will turn up in King's Landing, before heading North to appear in a second episode. The question is -- is he "the" leader? Or is he joined by a certain former Golden Company member, Daario Narahis?
Northerners: 3
Northern farmer, aged 25 – 35. "Straightforward honest man of simple tastes." Shoots the week November 17.
Sassy girl, aged 18 – 25. "Sexy and confident Northern girl." Memorable one-scene part, opposite leading cast. Shoots week of November 6.
Northern sentry, aged 18 – 25. "Characterful young Northern actor with great timing," opposite leading cast. Shoots week of December 1.
We already know we're going to Winterfell, and work on the set suggests we'll be spending quite a bit of time shooting there on set. We also figure there will be road travel, as Jon and Dany head North to reach it, and then head out to fight the Night King.
These are all small one-off roles that characters like The Hound and Gendry, or Tormund and Beric, might run into on their travels. (One might remember that Ros was originally a "Memorable one-scene part, opposite leading cast," so for all we know, Tyrion might make a return trip to see the Wintertown brothel again.)
Sailors & Guards: 3
Sailor, aged 35- 50. "Rough-and ready sea-faring type with a weathered face and strong presence." Shoots week of December 11.
Guard #1, age 20-ish "Physically very fit, able to handle himself in any fight. " Shoots week of December 1.
Guard #2, age 30-ish. "Tall, and athletic with a military feel." One-line role, opposite leading cast. Shoots November 1 - 2 in Spain.
At the end of Season 7, Theon left to go rescue Yara. For anyone thinking that was merely the show's way of removing the character for the final season, it sounds like they're wrong. Extra sailors with lines mean more seafaring adventures with the Ironborn.
As for the guards, the second one shooting in Spain is almost guaranteed that his "leading cast" is a King's Landing person -- perhaps Cersei (or Bronn?) As for the other, not being included in the Northern section also suggests he's down south somewhere, and maybe with the Queensguards as well.
We'll keep our eyes peeled as arrivals start next week in Ireland.