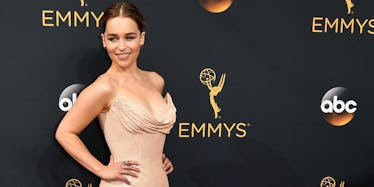 The 'Game Of Thrones' Cast Absolutely Ruled The 2016 Emmys Red Carpet
REX?Shutterstock
A girl may have no name, but DAYUMMMMM does that girl know how to CLEAN UP.
The Emmy awards were last night and the cast of "Game of Thrones" were the obvious highlight of the event.
I'm not even talking about the 23 nominations the cast received.
DID YOU SEE THIS CREW WALK DOWN THE RED CARPET??!?!!
THEY ABSOLUTELY SLAUGHTERED.
If you weren't part of the "Game of Thrones" cast, the red carpet might as well have been the Red Wedding for you from a fashion standpoint. I'm sorry everyone from "People v. O.J." and "UnReal," but you guys looked like a bucket of dog food next to the Throners last night.
It's not your fault, though! Honestly, nobody can compete with what the population of Westeros did at the Emmys.
The Mother of Dragons crushed it.
Sansa Stark represented Westeros and looked amazing in the process.
I swear this is Brienne of Tarth. Insane, I know.
Arya? ARE-YA kidding me with this dress?!?!
Of course Peter Dinklage looked great. The man can do no wrong.
SUCK IT, CAST OF "The People Vs. O.J. Simpson"!!!!