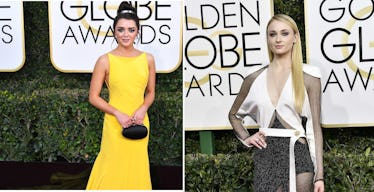 The 'Game Of Thrones' Cast Was Red Hot On The Golden Globes Red Carpet
REX/Shutterstock
I don't know which pun to start with, so let me give you some options:
Winter is coming, but the stars of "Game of Thrones" brought the heat to the Golden Globes red carpet.
Jon Snow may know nothing, but the cast of "Thrones" definitely knows something about looking fine!
"Game of Thrones" may be a pit of despair filled to the brim with horrifyingly gruesome beheadings, bloody sword fights, violent rapes, an utterly disturbing cycle of death and downright twisted storylines set in a fantastical realm that somehow deliver a sense of realistic, raw emotions that are hinged upon reality, but the cast really looked nice on the red carpet of the 74th Annual Golden Globes.
You get the idea.
Tonight is the 74th Annual Golden Globes award show, and Hollywood's finest stepped out to celebrate the past year of movies and television.
Specifically, the cast of HBO's hit series "Game of Thrones" turned heads on this year's red carpet.
Maisie Williams proved "a girl looks phenomenal in canary yellow." (A classic "Thrones" line.)
Sophie Turner stole the spotlight in a gorgeous black and white gown fit for a queen.
Nikolaj Coster-Waldau wore a sleek tux and made me wish I were his twin sister.
Gwendoline Christie looked fierce in a fitted, pale pink dress.
"Game of Thrones" is up for two awards this evening: Lena Headey, who flawlessly plays Cersei Lannister, is up for Best Performance by an Actress in a Supporting Role in a Series, Limited Series or Motion Picture made for Television, and the series is up for Best Television Series in the Drama category.
This is hardly "Game of Thrones'" first set of nominations. Peter Dinklage, who plays Tyrion Lannister, took home the award for Best Supporting Actor in 2012, and the series has been nominated three more times since then.
Do your duty tonight and pray Lena Headey takes home the gold tonight and slips some sort of detail from the upcoming season so we all have something to hold us over until "Thrones" comes back this summer.