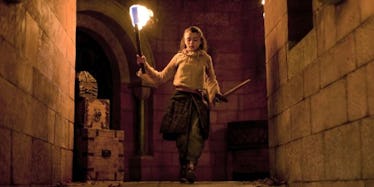 Arya Stark's Filming Location May Confirm Emotional 'Game Of Thrones' Reunion
We're still months away from the premiere of "Game of Thrones" season seven, but this latest whisper in the wind is sure to make you perk right up in anticipation.
Spoilers are coming, y'all!
We were introduced to direwolves and their significance in the very first episode of "Game of Thrones." Hell, just look at the sigil for House Stark!
Remember when Robb Stark, Ned Stark, Theon Greyjoy, Jon Snow and the kids found a direwolf that was killed by a stag, and each of the Stark children took possession of a cub direwolf?
Arya Stark's direwolf was called Nymeria, and this pup was awesome! Remember when Nymeria mauled Joffrey because that piece of crap put the sword to Arya?
That GIF is too good.
Anyway, according to "Game of Thrones" superfan sight Watchers on the Wall, Arya Stark could be destined for a reunion with Nymeria in season seven!
Apparently, Maisie Williams, who plays Arya Stark on "Game of Thrones," was seen in Calgary, Canada, a reported known location for filming shots with direwolves.
The below photo of Maisie in Calgary was posted by a "GoT" fan who met the actress just two days ago, according to his Instagram upload.
Now, you might think an Arya Stark and Nymeria reunion based solely on the fact Maisie Williams was in Calgary is a bit of a stretch. But wait, there's much more!
According to Watchers, Nymeria and Ghost were also in Canada filming as recently as this past Saturday!
I mean, the evidence is pretty clear, isn't it? You can't seriously think this is just a coincidence.
Nymeria has been roaming the Riverlands for quite a few seasons now, but it appears she and Arya are destined to be a badass dynamic duo once again!
I know we don't have a season seven start date as of yet, but I cannot wait for Arya Stark to reunite with her direwolf on "Game of Thrones."
Citations: Arya Stark Might Reunite With Long-Lost Pal in 'Game of Thrones' Season 7 (Complex)