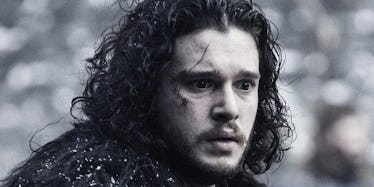 Twitter Is Lighting Up Over This One Hilarious Scene From 'Game Of Thrones'
HBO
Up until about a month and a half ago, I dreaded Sunday nights with every fiber of my being. The Sunday scaries are real. But you know what else is really f*cking real? Dragons. Sword fights. White Walkers.
On April 24, my scaries evaporated into the seas of Westeros when "Game of Thrones" returned. Now, Sunday is the most anticipated night of my week.
However, once 10 pm hits, my Monday-morning anxiety begins to creep up, and I crave something to make my night a little less depressing (well, depending on the episode).
Tonight is most definitely one of those nights. But luckily, the Seven gods are on our side and a very special hashtag started trending on Twitter: #ThronesYall.
This hashtag surfaced during Sunday's episode, particularly during one scene.
This episode, we all met Lil' Bad Bitch Baby Girl Lyanna Mormont (note: not her official name), and damn, she is doing WORK.
We all were first introduced to LBBBGLM in season five when she was briefly mentioned in a conversation between Stannis Baratheon and Jon Snow. She is the 1o-year-old head of House Mormont and the lady of Bear Island. Her uncle, Jeor Mormont, was Lord Commander of the Night's Watch and her cousin is Ser Friendzoned Jorah Mormont. And here's another fun fact: She was named after Lyanna Stark, Ned Stark's sister, who died before she was born.
Lil' Lyanna was met by Davos Seaworth, Jon Snow and Sansa Stark who asked for some help in fighting to regain the North. Our new favorite bad bitch ruler was kind enough to lend a helping hand... well... 62 pairs of helping hands.
While her intentions seem good, 62 men just isn't enough, and Twitter took notice in the most hysterical way. But, hey, when I was 10, my math skills weren't great either.
If you need a good LOL after some of the other, ahem, shocks of tonight's newest "Game of Thrones" episode, check out these tweets below that are all about the newest HBIC, Lady Lyanna Mormont of Bear Island.
Uh-huh, honey.
You gon take these 62 men and you're gonna thank me. That's all. #thronesyall — Hold the Door. (@mstharrington) June 6, 2016
Nah, fam. Chill.
Jon: How many men can we expect? Lyanna: 62. Jon: Like hundred or... Lyanna: nah, 62 fam#thronesyall pic.twitter.com/zSAKfKzvUC — Marie LeNeauxp (@HoodNerdLaFlare) June 6, 2016
Uh... OK? Thanks?
Jon: so we can get 1,000 men Baby girl: 62. Jon:#DemThrones #ThronesYall pic.twitter.com/Hz0f5yDmex — UnfriendlyBlkShawdy. (@ItsNot_Erin) June 6, 2016
Math is hard.
I'm over here still doing the math on these 62. Carry the 7, add the 2.... naw, still not enough. #ThronesYall — itsjenburke (@itsjenburke) June 6, 2016
Psh, the kiddie table is no place for a lady.
@GameOfThrones 62 soldiers?! who let this 8 year old leave the kiddie table at thanksgiving #ThronesYall — 9th and U (@9th_and_U) June 6, 2016
Yup.
Me when Lady Lyanna said "62" #ThronesYall #demthrones pic.twitter.com/U9c0xOGNbQ — magiccitypriestess (@justicerbelle) June 6, 2016
Nope. That's all, folks.
62. I was waiting for her to say thousand afterwards. But nope. just 62. #ThronesYall — King (@kinginatics) June 6, 2016
Can someone just cut Jon Snow a break?
62. #ThronesYall pic.twitter.com/2rLMNkahMx — V. Diddy (@theVeeKay) June 6, 2016
WTF YOU MEAN??
62???......WTF YOU MEAN 62?!?! #ThronesYall pic.twitter.com/qKScuIQ5tf — King B (@bbsfresh) June 6, 2016
Please show your support.
Everybody put up $62 RT @SwagPoker: Can we get a GoFundMe or a Kickstarter for the Stark Army?? #crowdfundingThronesstyle #ThronesYall — PRISSY fckn-Chrissy. (@PaqeSix) June 6, 2016
Let's make Westeros great again. #LyannaMormontForTheIronThrone.