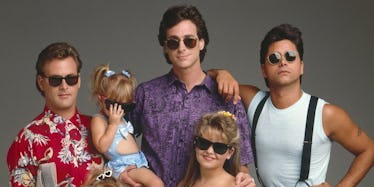 OMFG: A New 'Full House' Spinoff Series Might Be Coming To Netflix
Warner Bros. Television
Everything old is new again.
Classic 90s television shows such as "The X-Files," "Twin Peaks" and "Boy Meets World" are in the process of being or have already been rebooted.
Now, we can add another iconic show to that list: "Full House." Netflix is reportedly working on a rehash of the family sitcom to be titled "Fuller House."
Terrible title aside, the show will follow the adventures of DJ Tanner, played by Candace Cameron Bure, and her best friend, Kimmy Gibbler (Andrea Barber).
The actresses will reprise their roles from the original program. Of course this time, they will be 20 years older.
Bob Saget, John Stamos and Dave Coulier would, in all likelihood, make appearances on the show.
However, the Olsen twins are less likely to be a part of this project.
The show is said to be a multi-cam series and will be executive produced by Jeff Franklin, the creator of "Full House."
All of this has yet to be confirmed, but Netflix is supposedly strongly considering this option for a 13-episode season.
Citations: Netflix may be reviving Full House as Fuller House (The Verge)