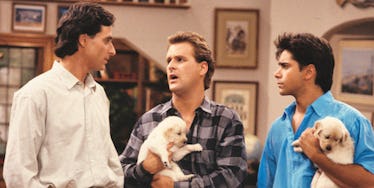 Lifetime Announces An Unauthorized 'Full House' Movie Is Coming Soon
Warner Bros. Television
Everyone seems to be jazzed about Netflix's reboot of "Full House."
In order to capitalize on that buzz and 90s nostalgia in general, Lifetime announced it will be producing "The Unauthorized Full House Story."
The made-for-TV movie will take a behind-the-scenes peek at the iconic sitcom that starred Bob Saget, John Stamos and the Olsen twins.
The original show ran for eight seasons, and I'm sure there is a great deal of off-screen tension to be mined for this film. It may end up being an interesting little flick.
Though if it's anything like Lifetime's "The Unauthorized Saved by the Bell Story," it may be a real pile of hot garbage.
There's no word yet on who will star in the movie or when it will be released.
Citations: An Unauthorized Full House Movie Is Coming to Lifetime (Cosmopolitan)