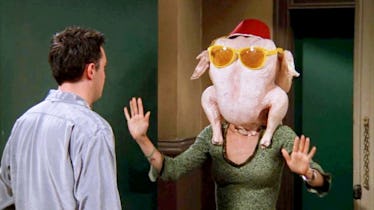 The Friends Thanksgiving Episodes, Ranked For Your Holiday Viewing Pleasure
Fans have *strong* opinions about this.
Warner Bros.
Tons of shows go all-in for holidays like Halloween and Christmas, but Thanksgiving is often left out. But not on Friends. The beloved sitcom made it a point to celebrate Turkey Day with an episode devoted to the holiday in all 10 of its seasons. Now, with the entirety of Friends now available on HBO Max, you can easily watch all 10 episodes as you gear up for the big day. But if you're short on time (or can only handle so much of Ross' nonsense in a single sitting) here's a ranking of all the Friends Thanksgiving episodes so you know which ones you simply can't miss.
Comedy is subjective, and most Friends fans have *strong* opinions about their fave episodes. Here are the factors considered in making this list: How quotable is the episode? What classic, relatable Thanksgiving detail does it capture? Who guest stars in it? Ultimately, when we think of a Thanksgiving with the six friends in Friends, what season comes to mind?
No matter what, any of the episodes on this list make for perfectly cozy Thanksgiving viewing. Play these episodes in the background when you're setting the table or save them for when your food baby starts to get uncomfortable — and make sure you stay away from the beef trifle!
Friends is streaming on HBO Max now.
This article was originally published on