Sugar, Spice, Kanekalon, & Cinnamon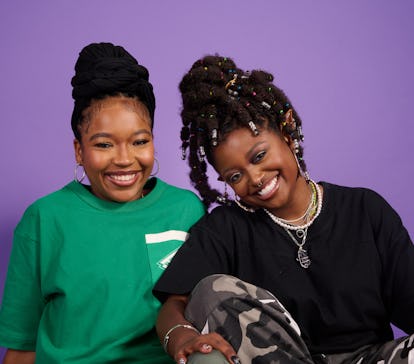 Flyana Boss Is Ready To Be The Biggest Duo In The World
"We like to write silly bars, eye-catching words that make you think 'Did they just say that?'"
"Hello, Christ? I'm 'bout to sin again. I said 'I love you' to that man, but I'm not feelin' him."
If you've spent more than five minutes on TikTok, this song is unavoidable.
Hear it once and the bouncy beat will worm its way inside your brain and take up residence there. Add in the visuals — a young woman wearing elf ears and colorful '90s-era clothes, running frantically toward the fisheye lens as she raps the verse — and you're hooked. After a few lines, her bestie pops in to take her place: "I'm like Michael Phelps, all the brand deals that I'm swimmin' in. You can call me Dr. Evil 'cause I got many men." And then you go back to the beginning and watch it all again.
"You Wish" is irresistibly catchy, bold, and chaotic — peak Gen Z — and the duo behind it, Flyana Boss, is having their long-awaited moment in the sun. Since its release on June 16, the song has garnered more than 21 million Spotify streams and been used as a sound on 174,000 TikTok videos, earning Flyana Boss 1 million followers and 33 million likes. They've even gotten a shoutout from their hero Missy Elliott, who praised their stylistic consistency in response to a social media critic. Elliott even made her own version of the "You Wish" video in July.
Flyana Boss are Bobbi LaNea and Folayan (who doesn't share her last name publicly), two real-life best friends who are "cute years old" (more on that later). They met in school at the Musicians Institute in Los Angeles, where they were casual acquaintances and self-confessed introverts. "[We] never made a major move on each other, friendshipwise," says Folayan, who eventually suggested that they join forces as a double act. They made it official in 2019, landing on their name when Bobbi had a dream about seeing a poster of Diana Ross on her wall and texted Folayan the suggestion when she woke up. (Cryana Boss was also a contender. "We cry a lot," says Bobbi.)
Since then, the duo has spent time developing their stop-you-in-your-tracks uniqueness that's made them viral gold. "We've always wanted to be the biggest duo in the world," says Folayan, and the pair's chemistry is part of that package. In the second verse of "You Wish," Folayan raps, "Me and my bestie are the same, like a synonym" — and sure enough, during our interview, the two finish each other's sentences. They also share a common aesthetic, arriving for our photo shoot wearing baggy cargo pants and stacks of chunky jewelry. (And yes, that is the mauve-colored fanny pack Bobbi wears in almost every running video.) "We're both kind of ethereal," Folayan says of their signature style. "She's like a mythical creature," Bobbi says, pointing to her BFF, who wears elf ears adorned with sparkly piercings. "We're both little cutie pies," Folayan adds.
Up until this year, they were both working regular jobs, Bobbi at Chipotle and Folayan also very briefly at Chipotle ("I hated it," she says, adding that she only stayed for a few days). On the side, they hustled to establish themselves in the L.A. music scene. Both recognized the opportunity presented by TikTok to get more eyes on their work, but the Internet moves at warp speed, and it takes a skilled creator to know how to capture the head-turning quality that makes a song blow up. Before "You Wish," the pair went what they call "baby viral" a few times, creating videos with a few million views and sounds that would be used by bigger creators. "[We were] just trying things and seeing what sticks," says Bobbi. The pair had found some of their signature style — rapping into a fisheye lens — they just needed the song that would take them to the next level.
Any disenfranchised group, or anyone who feels left out, any oddball or weirdo, we're here to empower them all.
They wrote "You Wish" in just 90 minutes with Stephen Ellrod. "We knew the song was fire," says Bobbi. "The moment we wrote it, we were like, 'This sh*t is hard.'" The first verse of "You Wish" opens with "I'm a great f*ck, but a better lover." It is, as Folayan says, "a puncher of an opening line." "We like to write silly bars, eye-catching words that make you think 'Did they just say that?'" says Bobbi. Add in the unseriousness of the videos, where they're running wide-eyed through places like Chipotle, the Google office, and the Hollywood Walk of Fame, and they had a song that was destined to blow up.
Now, the pair get to soak up their success. Just the previous night, the two were out to dinner in NYC and noticed the singer H.E.R. sitting in the same restaurant. "We weren't going to say anything," Bobbi recalls. "But then she came up to us and said she's a huge fan." They also ran into Estelle a few days prior. "She came up to us and was like, 'You girls!'" Bobbi says. "We were like, 'No, you!'"
As for the future, the sky's the limit. "We want a TV show," says Folayan. "We want to go on tour and headline Madison Square Garden." Then Bobbi jumps in: "We want lunchboxes with our faces on them. We want to see this go as far as it humanly possibly can go." In the meantime, they'll be joining Janelle Monáe on the Age of Pleasure Tour starting on Aug. 30. "It's all a blur," says Bobbi. "I don't know what day is what, they all bleed into one, and people point us in directions, like, 'Girls, go here. Now go here.'" Folayan quickly adds, "Which we wanted our whole lives."
There might be people shepherding them through this next chapter, but the pair remain steadfast about certain things, like not sharing their age. "Everyone's obsessed with age, especially for women," says Bobbi. "It doesn't happen for guys like that. But also, we do look age-ly ambiguous, so we like to keep people guessing." That said, they are planning on doing a big reveal eventually. "We're saving it for whenever we get on Oprah," jokes Folayan, though, given their recent success, who would bet against them?
In terms of a blueprint, they get frequent comparisons to Elliott, which Folayan says is "the best compliment and the best comparison." The rapper has long been an enormous inspiration to both Bobbi and Folayan. "We wish we'd had a lot of influences like us when we were growing up, and we just want to rep that," Bobbi says. "How Missy made us feel seen, we want to do that for the next generation."
Folayan continues, "Any disenfranchised group, or anyone who feels left out, any oddball or weirdo, we're here to empower them all. Or people that just want to be happy and dance and have a good time." TL;DR: If you need bad-b*tch energy in your life, come right this way.
Photographs by Xin Xin
Photo Director: Alex Pollack
Editor in Chief: Charlotte Owen
SVP Fashion: Tiffany Reid
SVP Creative: Karen Hibbert