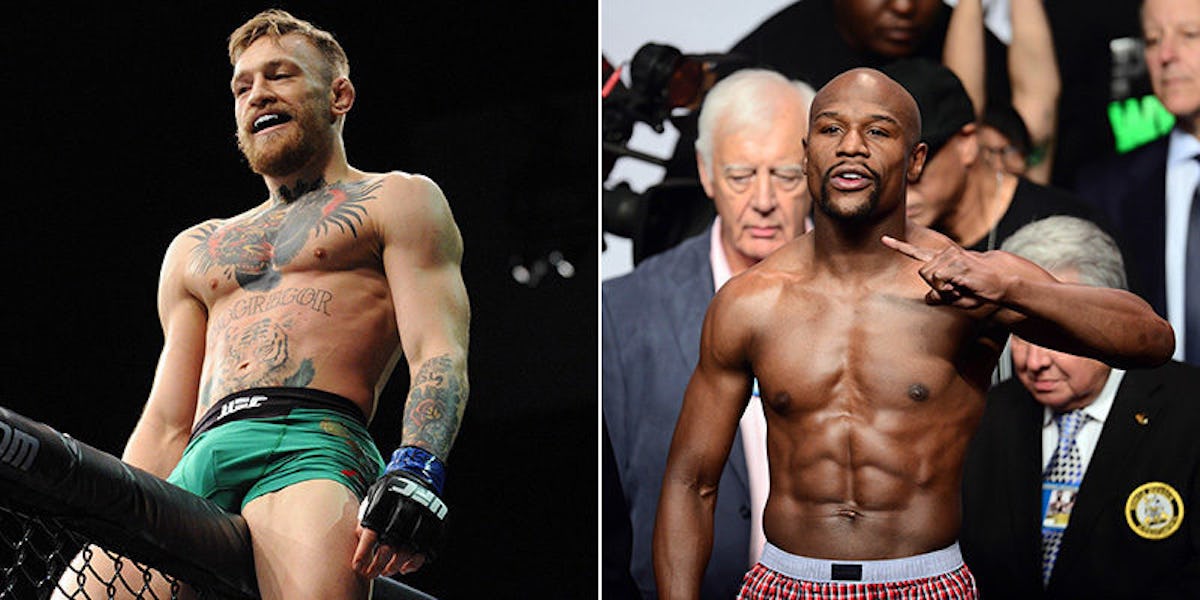 Floyd Mayweather Reportedly Offered Conor McGregor An Insane Deal To Fight
REUTERS
After weeks of each fighter teasing fans about a possible fight, yet another report claims Floyd Mayweather and Conor McGregor are closer to making what seemed impossible possible.
According to TMZ, sources say "Money" Mayweather offered McGregor a hefty deal to get in the ring for a New Year's Eve bonanza.
The prize for McGregor? Fifty million dollars. According to TMZ's sources, the price could presumably prompt the UFC star to put his money where his mouth is.
Crucially, TMZ's report also notes a deal is highly unlike without the inclusion of Dana White. Incidentally, the last we heard from Dana White regarding the Floyd Mayweather-Conor McGregor talk is that there is no talk.
White reportedly said,
We haven't talked about it. Conor McGregor's under contract with the UFC. If Floyd wants to fight Conor — call me, Floyd.
The reported $50 million offer is an improvement on the last rumored prize offered to Conor. Still, though, it seems highly unlikely a fight between these two would happen. After all, just a day after White told Floyd to "call me," the UFC president pulled no punches in saying exactly what he thinks about the rumors.
During an appearance on "UFC TONIGHT," he reportedly said.
Listen, if you look at Floyd Mayweather and Manny Pacquaio, (they) were in the same sport and they couldn't make that fight. You think you're going to make Floyd and Conor. There's no way in hell.
So much for that.
Citations: FLOYD MAYWEATHER $50 MIL OFFER TO MCGREGOR ... But No Deal Yet Read more: http://www.tmz.com/2016/05/20/floyd-mayweather-conor-mcgregor-fight/#ixzz49D6Fi5qM (TMZ Sports)