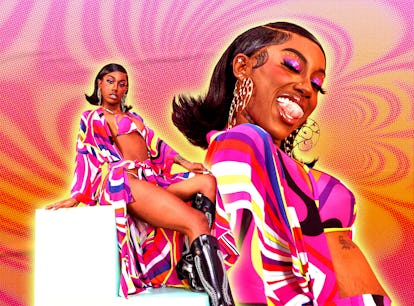 Flo Milli Wants You To Walk Away From Her Shows Feeling Confident
In fact, it's the inspo behind her signature catchphrase.
Lindsay Hattrick/Elite Daily; Irvin Rivera/Getty Images for YouTube
Few people have taken the Internet by storm like Flo Milli. The Mobile, Alabama, native was an instant sensation when she dropped her first Soundcloud track in 2019: "Beef FloMix," a fun and funky freestyle over an instrumental version of producer Ethereal's original single featuring Playboi Carti, and it became the first in a long string of viral hits for the rapper.
She has since amassed a whopping 5.6 million monthly listeners on Spotify, with her sophomore single "In the Party" hitting more than 145 million streams on the platform. And despite rising to prominence during a global pandemic, Flo has cemented herself as a trending sound machine on TikTok and has become a style icon in her own right. (She even curated her own collection of vintage and secondhand '90s and Y2K-inspired pieces on Depop ahead of her Coachella performance.)
Needless to say, the 23-year-old has been booked and busy.
Elite Daily had a chance to catch up with Flo immediately following her inaugural performance at Coachella to learn more about how she prepared for the show, designing her custom look with Emilio Pucci, and connecting with her fans IRL.
Elite Daily: Your first-ever Coachella performance! How was it? How do you feel?
Flo Milli: It was so liberating. It was so exciting. I felt the energy from the crowd, and I was really happy.
ED: Coachella is such a huge, massive global stage. How did you mentally prepare yourself for your performance?
FM: I always pray. And I definitely make sure I'm grounded. I stay off my phone. That's a big, major part. Because when you think about it, social media is not the most positive place. So you have to really pay attention to what you expose yourself to before the show, and you're in front of thousands of people. Because anything could throw you off. So I make sure that I'm grounded, I'm not on social media, I'm praying, and I'm around good vibes.
ED: What does it mean to you to be from Mobile, Alabama, on such a massive stage?
FM: It means a lot, honestly. Because Mobile, you don't really expect a young girl to make it here from Mobile. And that's because we don't really have that much of a music scene. I would say it's different now. But back then, it was foreign to think you would be performing at Coachella.
ED: And you wore a custom Emilio Pucci look. Tell me about that process. How was it collaborating with their team?
FM: Oh, my gosh. It was so good. It was so much fun. It was such a great experience because I had never collabed with another clothing company like that before. So I was really excited because I already wear Pucci. We tried on a bunch of clothes, and my stylist also collabed with them on some of the clothing designs.
ED: How did you create the concepts? Did you have a huge hand in what that looked like?
FM: Definitely — we went through sketches, and I started to tell them what I wanted, what kind of vibe I wanted and the color, the patterns. So they made sure to make sure I was happy too.
ED: You clearly love color — you had purple hair for your performance! What else inspires your fashion and beauty looks on and off stage?
FM: What inspires me is just expressing myself in the best way that showcases my true self. I love my Flo Milli flip. I always make sure I have it, and it's just become a signature part for me to show.
ED: So you must be into '60s vibes.
FM: I used to love the movie Hairspray as a kid. I also like '70s styles, but I'm really a Y2K girl because I was born in 2000. I like nostalgia, so that might be another reason.
ED: You say the words "Flo Milli sh*t" at the beginning of a lot of your songs. What exactly is "Flo Milli sh*t" and what attitude do you hope to bring to your songs and performances?
FM: I definitely just hope to bring my true self, which is very confident. I don't really experience anything other than that on stage. I make sure I always have that on because I definitely feel like music is healing, and my fans and my supporters listen to me for a certain reason. I feel like I kind of bring them a little bit of confidence and help them. Showing them how I express myself helps them to tap into their confidence. So I feel like it's important that I always bring that energy on the stage.
ED: And it seems like they're responding really well to all your recent releases, especially "Conceited."
FM: They've been just happy, ready for me to drop more, of course. I've been hogging a lot of music, but it's for a good reason. But they've been responding well. I've been doing a lot of features lately, so I think they've been liking those.
ED: I know that you've built a lot of your audience online, especially with TikTok and your songs going viral. What is it like to be able to perform your music in real life and connect with your fans in real life?
FM: It feels really good. Because you go from getting on social media and just seeing the comments to actually experiencing it in real life. So it's definitely fun. I get to see my fans in real-time, their expressions, how they feel, and their favorite songs. The energy is just there.
ED: What do you hope audiences walk away from your show feeling?
FM: I hope they walk away from my show feeling more empowered, feeling more confident, feeling relieved, feeling like they expressed themselves, and feeling like a brand new bad b*tch. That's what I want.
This interview has been edited and condensed for length and clarity.