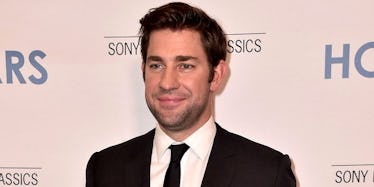 Twitter Is Convinced John Krasinski Will Play Green Lantern In The DC Movies
Getty
Now that the DC Entertainment Universe is expanding with the upcoming Justice League movie, fans are rabidly trying to figure out which actors will be playing the iconic comic book characters not yet introduced in the film franchise. The character of most interest among fans is definitely Green Lantern, especially after lanterns were briefly mentioned in the Justice League trailer. And there's already a frontrunner for the part: Twitter is convinced John Krasinski will play Green Lantern.
Fans have been putting forward the idea of John Krasinski as the Green Lantern for quite a while now. Numerous online discussion threads have fan-cast The Office star as the intergalactic guardian (ComicVine, Reddit, ScreenRant, MoviePilot). Finally, Krasinski acknowledged the fan fervor, responding to a Twitter user asking if he'd been cast as Green Lantern with excited confusion.
Though Krasinski is most famous for his more buttoned-up role as the dry-humored paper salesman Jim Halpert on The Office, he's made the surprising jump to action star following the sitcom's end. Last year, he starred in the wartime action flick 13 Hours, and he'll play the eponymous CIA agent in the upcoming Jack Ryan series.
Not only that, but Krasinski has been close to breaking into the superhero franchise for a while now. Last year, Krasinski revealed he was actually in the running to play Captain America in the Marvel Cinematic Universe, though the role obviously wound up going to Chris Evans instead.
So this could finally be John Krasinski's break into the superhero movies. Of course, DC already made one Green Lantern movie back in 2011 with Ryan Reynolds in the green, CGI suit. But since that movie was released before Man of Steel, it's not considered part of the sprawling DC Entertainment Universe the franchise is currently building on.
And since it's incredibly unlikely Ryan Reynolds will return for the role — owing both to the film's negative reception as well as his new role as Deadpool within the competing Marvel Cinematic Universe — DC will have to cast a new Hal Jordan.
Oh, and in case you forgot about his recent Chris Pratt-level transformation, here's a little reminder that John Krasinski definitely has the ripped body to play a superhero:
Though Krasinski is brushing off casting rumors, it's hard to believe DC wouldn't be considering him for the part considering the fan outcry. Green Lantern may not show up in Justice League, but fans are guessing DC is planning a Green Lantern standalone, or at least an appearance in the next Justice League team-up flick.