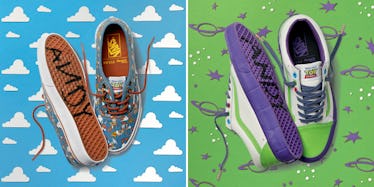 Relive Your Childhood And Ruin Your Street Cred With These 'Toy Story' Vans
Vans
It's been six whole years since we had to say goodbye to our friends in "Toy Story 3." Can you believe it's been so long?
Well, now you can mend your broken heart and relive your childhood by rocking some questionably stylish shoes.
Look, I know, I get it. Nostalgia is a powerful thing, and I love Pixar as much as the next girl but...
Bruh.
To each their own, but you'll never see me out on the street in these bad boys.
Vans teamed up with Disney-Pixar to cash in on some of that sweet, sweet nostalgia and created a new line of "Toy Story" sneakers.
The worst part is? It is totally going to work. I already know at least six kids off the top of my head who will be buying these.
I would have to be BUZZed for LIGHTYEARS before I bought these kicks.
Actually... they're kind of cute. They might be growing on me.
Maybe these will be your chosen ones?
The "Toy Story" collection also includes clothing and backpacks and prices range from $10-$85.
Look! You can even cop the style of the troubled child next door!
Of course, the line is available in smaller sizes for kids and toddlers, which makes more sense to me than grown ass adults.
Like, buddy... it's a no on these. Hard pass. HARD pass.
If a bully saw you in these he would certainly say, "Reach for the sky!" so he could more easily steal your lunch money.
The Vans and Disney Pixar "Toy Story" collection will be available online and in stores on October 7, if you... if you're into that kind of stuff.
Maybe I just wrote this whole post trying to persuade you not to go out and buy it because I want to ensure they're not all sold out for me to purchase?
I guess we'll never know my true purpose here.
Citations: YOU'VE GOT A FRIEND IN THE VANS X DISNEY•PIXAR TOY STORY COLLECTION (Disney)