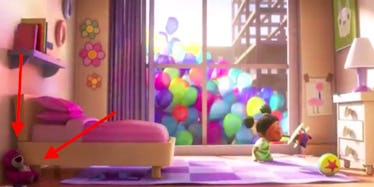 This Hidden Link Between 'Toy Story' And 'Up' Will Make You Rethink Childhood
Disney
If you've somehow lived your life without knowing about The Pixar Theory, allow me to be the one to blow your mind.
Basically, all the Pixar movies are connected.
This theory has been floating around the internet for nearly a decade, but now Disney-Pixar has kinda, sorta confirmed it with an official Easter egg video.
Uploaded to the official "Toy Story" Facebook page this weekend, the video walks through some of the lesser-known connections of the Pixar universe.
Everyone knows about the Nemo toy in "Monsters, Inc."
But did you know the evil bear from "Toy Story 3"...
...appears in the bedroom of a little girl in "Up"?
Since that girl is not Daisy, Lotso's former owner seen in "Toy Story 3," perhaps this is what happens to Lotso after the film.
Or that Riley from "Inside Out"...
...is one of the kids peering in the tank in "Finding Dory"?
Turns out, Dug from "Up"...
...makes an appearance in "Ratatouille" as the dog that scares Remy.
The kid in the dentist waiting room in "Finding Nemo" is reading a comic book about Mr. Incredible.
And the classic: The Pizza Planet truck from "Toy Story" appears in "A Bug's Life."
Hence the theory that "A Bug's Life" takes place in a dystopian Earth after most of the humans are gone.
Admittedly this video doesn't quite confirm the original Pixar Theory: All the Pixar films take place in one universe and witness the destruction of humanity.
The basic idea of that theory is there was an uprising among the increasingly smart animals ("Finding Nemo" and "Ratatouille") that led to the humans leaving Earth ("Cars" and "WALL-E") and the animals evolving into civilized monsters ("Monsters, Inc.").
Now thanks to Disney, we have a lot more evidence to apply to this theory, rather than doing useful things with our lives. Thanks, Disney!
Citations: Every Pixar film is linked - and Disney has finally proved it with this amazing video (Daily Record), New Video Shows How Every Pixar Movie Is Linked (The Lad Bible)