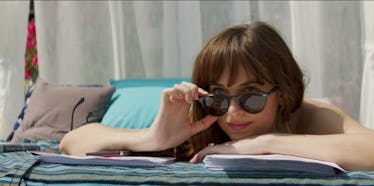 There's A Trailer For The Final 'Fifty Shades Of Grey' Movie, And It's Sexy AF
Universal Pictures/YouTube
If you've been anxiously awaiting the final Fifty Shades of Grey movie, well… your wait isn't done, but there's something to tide you over now. The teaser trailer for Fifty Shades Freed, the final movie in the trilogy, was released on Sept. 10, and it's looking true to form. Which is to say, sexy as hell and kind of over the top about it.
The trailer opens, of course, with ominous music, and a shot of… a wedding dress? Hanging from a chandelier? The voiceover recites a romantic wedding vow, as two people, a man and a woman, put on their wedding finery. Why? Because the two main characters, Anastasia Steele and Christian Grey, are getting married, of course! The trailer shows them exchanging vows, rings, the whole nine yards, all complete with a beautiful dress, because what's a wedding scene without the fashion porn? (Don't worry, the regular porn comes later.)
The trailer shows the happy couple on what looks like their honeymoon, in some beautiful, tropical location, complete with blue water and sunny skies, and sultry glances exchanged over the top of sunglasses. But then, there's a gun? And a car chase? And people shooting at each other? And yes, yes, a lot of sexy shots of riding crops and bodies and heads tossed back with close-ups on the lips. Also, an apparent kidnapping?
Which is all to say, there is definitely some drama coming in this final installment of the Fifty Shades Of Grey trilogy.
Of course, one should expect nothing else from the sexified Twilight homage. The trilogy of books the movies are based on, by British author E.L. James, started life as a Twilight fanfiction, which James then reworked as an original piece with original characters. In 2011, she self-published the original work, and in 2012 it was picked up by a subdivision of Random House. And after that... well, it kind of blew up, as evidenced by the fact that we all just watched the trailer for the third movie based on the series.
You can totally see the little nods to Twilight as well, including in the trailer. For one thing, Ana's wedding dress has kind of a lot in common with Twilight heroine Bella Swan's, down to the line of little buttons down the back and the long sleeves.
Need a closer look?
OK, I'm going to admit, this dress is kind of selling me on the movie. I can sympathize with a good fantasy indulgence in general, and I've got nothing against a sexy movie, but TBH, a pretty, extravagant dresses will always get my butt in a seat. Someone get the popcorn going.
And if you're looking at your screen, thinking that you hardly needed a pretty dress to convince you to see this unapologetically sexy movie, well, you're definitely not alone.
Twitter was shook after the trailer dropped on Sunday afternoon.
This is ostensibly the final movie in the series, which was written as a trilogy. However, it's not certain that it's gonna be the last film that fans get. Mashable points out that E.L. James also wrote a companion book from Christian Grey's perspective back in 2015, so there's a very real possibility that we could get a fourth movie? Hey, the series' inspiration, Twilight, pioneered the art of squeezing an extra movie out of a series.
But if you're too excited about this next film to bother thinking about a possible fourth, don't get too ahead of yourself. The movie isn't coming out until Valentine's Day of 2018. So this is just a little taste to keep everyone's interest up.
Though by the looks of Twitter, it doesn't look like it was strictly necessary. Twitter is ready.