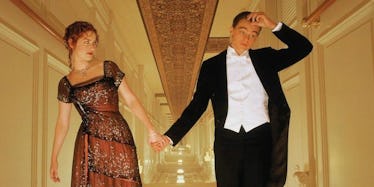 Why The Story Of The Titanic Is More Than A Film For Northern Ireland
20th Century fox
For most, "Titanic" is a great movie starring Kate Winslet and Leonardo DiCaprio, but to the people of Belfast, it is so much more than that.
Growing up in Northern Ireland, a small country torn apart by decades of fighting, we didn't have many things to make us feel patriotic.
Our history was one of sectarianism and violence -- aka, nothing you would want to shout about.
However, the one exception to this was the Titanic.
The Titanic was made in Belfast, and it was the greatest ship the world had ever seen.
As children, we were taught about the great shipbuilders at Harland and Wolff, about a liner so glamorous it was famous across the world and, of course, about the fateful night 103 years ago, when the Titanic sank after hitting an iceberg.
We were told these stories with pride, and in turn, we learned to be proud a city as small as ours had produced such an amazing vessel.
The fact that so many people died as a result of what can only be described as gross negligence by the White Star Line, was ultimately lost on us.
Of course, we knew the numbers and understood it was a terrible tragedy, but for many people growing up in Belfast, the story of the Titanic was the legacy of a city in its heyday.
As a kid, I became obsessed with the Titanic and devoured everything I could find on it.
I wanted nothing more than to be able to visit the wreck one day, and regretted my misfortune that I hadn't been born 80 years earlier in order that I, too, could have watched it set sail from Belfast.
Since then, Northern Ireland has undergone a dramatic transformation.
The Good Friday Agreement that was signed in 1998 was the beginning of a long, drawn-out peace process. And, while Belfast still has its problems, the city today is unrecognizable from the city I grew up in.
Following the signing of the agreement, Northern Ireland started to see new investments.
Our old industries (including ship building) were gone, but in this new era of peace, perhaps we could start to focus on rebuilding our economy by investing in retail, hospitality and tourism.
Northern Ireland had started to blossom and at the heart of this transformation remained the Titanic.
The cranes at Harland and Wolff, Samson and Goliath, are still standing. They can be seen from all over Belfast and are a visible reminder of our history as world leaders.
In East Belfast, former paramilitary murals have been painted over and replaced with images of the Titanic, instilling a sense of pride in communities that have been wrecked by violence and have, for too many years, been over looked by policy makers.
The biggest jewel in the crown, however, has been the recently opened Titanic museum and the regenerated Titanic Quarter.
The museum is a symbol of the new Belfast; it is a huge structure of shiny metal and it contains a replica staircase and enough Titanic memorabilia to thrill even the harshest critics.
It has a (relatively) expensive entry price, but just nine months after opening, it became Northern Ireland's number one tourist attraction.
The Titanic was a terrible tragedy and one which we should all hope to never be repeated.
When walking around the museum, there is a sense of the terrible sadness which must have prevailed around the world on that fateful night.
As you listen to the Titanic radio its sister ship for help, it is impossible for your heart not to break. For Belfast, the story didn't end with that night.
The Titanic is, once again, something to be celebrated in Northern Ireland; it is as much as symbol of our future as it is our past. People travel from all over the world to see the Titanic museum, and when they do, they will learn about Belfast's past and see our present.
So, next time you see the movie, remember that for the people of Northern Ireland, the Titanic represents more than could ever be captured in a three-hour film.
It is a story of a city's rebirth as much as it is about a ship.