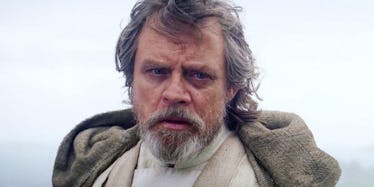 The New 'Star Wars' Movie Title Was Revealed And People Think It's Lame
Disney
"The Last Jedi"?!?! Are you serious, Disney?
Just like 99 percent of everyone else who saw "The Force Awakens," I loved it. It was fun, had great characters and did justice to the old films.
It also had one of the all-time dumbest names for a major movie.
In fact, "Star Wars" has always been really terrible when it comes to naming their movies. "A New Hope," "The Clone Wars," "Revenge of The Sith," etc. all suck. They sound like a stepdad trying to find common ground with his nerdy stepson.
Ohhh, you guys talking about your clone wars and, uhhhhhh, Sith? Something like a Sith's revenge? Am I close?
The execs at Star Wars announced the name of the ninth film in the core series and it's predictably campy.
Everyone buckle up for another movie involving the concept of there being no more Jedis.
They also released a statement online saying,
We have the greatest fans in this or any other galaxy. In appreciation of the fans, we wanted them to be the first to know the title of the next chapter in the Skywalker saga: STAR WARS: THE LAST JEDI. THE LAST JEDI is written and directed by Rian Johnson and produced by Kathleen Kennedy and Ram Bergman and executive produced by J.J. Abrams, Jason McGatlin, and Tom Karnowski. STAR WARS: THE LAST JEDI is scheduled for release December 15, 2017.
The internet was predictably not thrilled with the title that was chosen and they've spent the bulk of the day making sure Disney knows it.
You could have seen this title from 12 parsecs away.
Jedis are the cockroaches of space.
YOU BETTER NOT DO WHAT I THINK YOU'RE TYRING TO DO, DISNEY.
This one person really liked the name, so maybe we're all just being dicks about this name.
More likely, though:
May the force be with you and your terribly named movie, Disney.