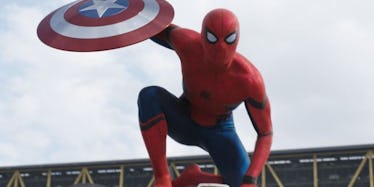 'Spider-Man: Homecoming' Reviews Are In And It Looks Like The Best One Yet
Marvel
Spider-Man: Homecoming's red carpet premiere event was last night. This morning, the embargo on reviews for the movie lifted.
It's looking like good news for the third iteration of the series in the last decade. Rotten Tomatoes currently has the move sitting at over 90 percent fresh, with some reviewers saying this is the best one since 2002's Spider-Man 2.
One of the major factors? Tom Holland, who is the youngest actor to take the role so far.
As Variety puts it:
Tom Holland plays him with a gawky, anxious deer-in-headlights teen innocence that's so fumblingly aw shucks and ordinary that it seems almost incongruous when he's referred to as "the Spider-Man." What he looks (and acts) like is Spider-Boy. Tobey Maguire, who certainly seemed boyish at the time, was 26 years old when he first played Peter, but Holland was just 20 when he shot this film, and it makes a difference.
Another factor, according to critics, is that this film actually feels like it's set in the Marvel-verse, where ordinary citizens live in superheroes infested times.
To quote Entertainment Weekly:
In a city where the average citizen seems to accept Avengers as a fact of daily life as common as a rat on the subway or a Starbucks on the corner, Homecoming's Parker is still consistently, winningly wowed by his own capabilities; he can't stop saying 'Gross' or 'Awesome' at the things that shoot out of his body (which, to be fair, is also just basic adolescence).
And most importantly, the movie's decision to make this as much a teenage high school story as a superhero film shows how to work within the Avenger world, while making the movie stand out. Several reviews compared it to John Hughes' Can't Hardly Wait or Sixteen Candles.
As IndieWire says:
Homecoming works by allowing itself to become an actual genre film, the first of its ilk to recognize that superhero movies might be more interesting if they were also something else. It's the first of its kind to appreciate that today's assembly-line blockbusters are neutered by their need to fit a unique brands into a one-size-fits-all action template.
Spider-Man: Homecoming will swing into theaters July 7. Hopefully audiences will be as drawn into its web as critics.