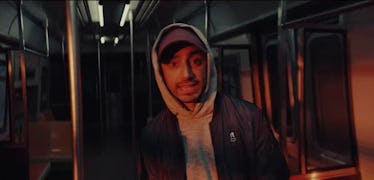 Riz Ahmed Stars In New 'Hamilton' Mixtape Video And Absolutely Kills It
YouTube
It was just under two years ago Hamilton: An American Musical took Broadway by storm. Since then, Lin-Manuel Miranda has been everywhere, with the show winning Tonys galore, as well as Grammys. It's only a matter of time before it gets made into a live musical on NBC and wins Emmys, or a movie-musical to win Oscars.
But while we wait, Miranda has been busy. One of his sharpest moves was to spin off a bonafide hip-hop album from the hip-hop musical, taking the songs that might be a bit too Broadway for some, and reimagining them as radio ready hits, under the title The Hamilton Mixtape.
Two of the best tracks from the mixtape are ones that take the concept of a "mixtape" to heart. Rather than do straight covers of certain numbers, rappers work together on a song that's inspired by one or two lines from a particular number, and then each drop a verse on why that line is so meaningful to them. The first features Miranda's own freestyling, in "Wrote My Way Out."
The second is the highly politically charged number "Immigrants (We Get The Job Done)," which is inspired by a throwaway comedy line from the Act One highlight, "The Battle of Yorktown."
This week, Miranda reminded everyone why this song is so timely with a brand new video featuring all the rappers and artists who appear on the track.
Check it out below:
For those who don't know them, the opening rapper is K'naan. It then features female Mexican-American rapper Snow Tha Product (who has the great line: "It's America's ghostwriters, the credit's only borrowed"). Also featured: Puerto Rican rapper Residente, formerly of Calle 13, who is one of the most decorated Latin Grammy winners of all time.
Sandwiched in between them is someone who most Americans will recognize, though they would not have when the album originally dropped back at the very beginning of December 2016. That's the man known as Riz MC, aka Riz Ahmed, aka the Imperial pilot Bodhi Rook from Rogue One: A Star Wars Anthology.
Turns out immigrants get the job done both here on Earth and in a galaxy far far away.