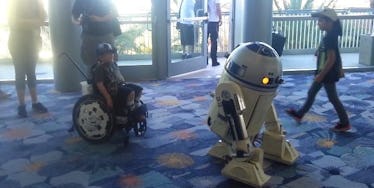 R2-D2 Adorably Dances With Boy In Wheelchair At 'Star Wars' Celebration (Video)
Great "Star Wars" content keeps on pouring in. First, we were treated to the new trailer for "Star Wars: The Force Awakens."
Now, we have an adorable video of a boy in a wheelchair playing with R2-D2.
The footage was captured at a recent "Star Wars" celebration in Anaheim, California.
A fan made a remote controlled R2-D2, and it followed the kid around and beeped and buzzed just like the real thing.
It's a delightful little clip that will make you appreciate the true power of "Star Wars."
Check it out above.
Citations: R D Does Dance With Boy In Wheelchair At Star Wars Convention (Huffington Post)