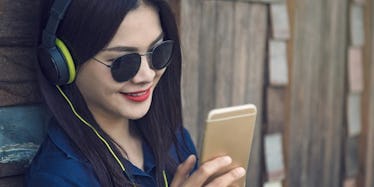 New App Lets You Upload Old DVDs To Your Phone, So They're Finally Useful Again
Shutterstock
I used to be proud of my DVD collection.
But now, it's just a dusty stack of outdated movies and TV shows staring me in the face and reminding me I am, indeed, getting older.
For a while, I thought about selling them, but I'm glad I didn't since the app Vudu will now allow you to "convert" DVDs and Blu-rays into streaming digital movies.
All you need to get started is your smartphone (Android and iOS are both supported) and the DVD case of the movie you want to convert.
There should be a barcode on the DVD case, which you can scan using Vudu's mobile app and your phone's camera.
From there, you pay a small fee of $2 to import the movie, and voila! You now have access to your movie, as well as an UltraViolet digital copy.
And if you want to upgrade the DVD to a high-definition digital version, that'll only cost you a little more, at $5 per conversion.
If you're a current Vudu user, congrats, because you'll be gifted one free conversion just for trying out the service!
As of now, a total of 8,000 movies can be converted using Vudu. Participating studios include Lionsgate, Paramount, Sony Pictures, Twentieth Century Fox, Universal and Warner Bros.
A Vudu spokesperson told The Verge,
There is something for everyone including fan favorites like 'The Lord of the Rings,' 'Harry Potter' and the 'Bourne' series, as well as classics like 'Top Gun' and 'The Godfather.'
In case you didn't already know, Vudu also has thousands of high-definition movies (with limited commercials!) available right now to stream for free.
Initially, disc-to-digital conversions began as an in-store program offered exclusively at Walmart. Eventually, though, the company started letting customers use the service through a home PC.
Now, all you need is your smartphone.
If you need me, I'll be dusting off my DVD shelf and binge-watching old rom-coms from the early 2000s on my phone!
Citations: Vudu can turn your old DVDs into HD digital copies, and all you need is a smartphone (The Verge)