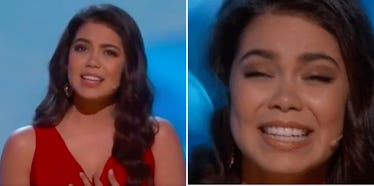 Moana Got Hit In The Head By A Dancer During Her Oscars 2017 Performance
ABC
Auli'i Cravalho is a princess... like, literally. She's Moana, so she's an actual Disney princess.
But even princesses are sometimes the victims of the inevitable mishaps that come with putting on a live show like the Oscars.
On Sunday night at the 89th Academy Awards, the 16-year-old star of Disney's "Moana" performed "How Far I'll Go" after a rap-introduction from composer Lin-Manuel Miranda and a regular introduction from Dwayne "The Rock" Johnson.
Auli'i was out there, singing the Oscar-nominated song, doing her thing and sounding pretty damn good.
While she was singing her beautiful song, there were some people behind her waving around these blue sheets, presumably to sort of recreate the scene from the film where Moana is sailing on the ocean.
While the effect was cool enough, unfortunately for Auli'i, one of those dancers got a little bit too enthusiastic with their sheet choreography.
The result? Auli'i got smacked in the face by a sheet on live television at her very first Oscars. You gotta admit, that's kind of a tough break for a teenage girl.
To Auli'i's credit, she handled it like a total professional: by wincing very slightly and then just moving the fuck on.
Unfortunately, the internet is a vicious and unforgiving place that sees everything, which means we can all watch and rewatch this painful yet hilarious moment as many times we want.
So that kind of sucks. But she really did handle it well, right?
Homegirl barely even flinched. If it were me, I would have whipped around and challenged that sheet-waver to a duel on stage immediately, or I least would have given them the evil eye.
(It's probably a good thing I'm not Moana.)
The brief assault on her face didn't ruin the moment for the 16-year-old star, luckily. After her performance, she shared a heartwarming photo on her Twitter that showed her aftermath in her dressing room.
Plus, she already slayed on the red carpet earlier in the night.
So yeah, don't worry about Moana, guys. She'll be fine.