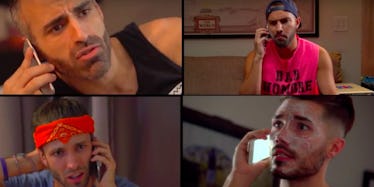 This 'Mean Girls' Spoof Is So Fetch It'll Get Any Millennial To Vote Clinton
YouTube
Honestly, if you put anything in terms of "Mean Girls," then I will understand it 100 percent better, so thank you Bros4Hillary.
Alex Mohajer, Adrian Anchondo, Rance Collins and Daniel O'Reilly of the pro-Hillary Clinton advocacy group got together to redo the iconic four-way phone conversation scene from "Mean Girls."
The "Mean Bros" clip features some famous lines from the original film, but does not include the "Boo, you whore" line, which I personally see as a loss.
Mohajer, a government advocate, spoke to The Huffington Post about the video, which he wrote with his writing partner Daniel Fusselman.
The two wanted to created a "funny and buzzworthy" video with one sole purpose: to show that a Donald Trump presidency could ruin lives just like Regina George.
Mohajer said,
I'm a Millennial... and LGBT, [and] I was particularly miffed at being told my demo didn't support her. Phone banking has been a central focus of our partnership with Hillary for America, and the idea to do a spoof of the phone call scene in "Mean Girls" just sort of organically popped up in creative conversations.
While Mahajer and Bros4Hillary may help get the first female president elected to office, there's no word yet on if they can actually make "fetch" happen.
Bros4Hillary started in January 2016 as a Facebook group and now boast over 30,000 members and followers.
They've been named one of the Top 8 LGBT People/Groups working to elect Clinton by LGBTQ Nation, and they officially partnered with Hillary for America in September.
If you want to help the bros and Hillary Clinton out, text "BROS" to 47246 to find out how to get involved!
And the movie "Mean Girls" serves as a perfect reminder for Donald Trump in regards to his comments, especially with this quote from Cady:
Calling somebody else fat won't make you any skinnier. Calling someone stupid doesn't make you any smarter.
Citations: Hot Dudes Spoof 'Mean Girls' In Support Of Hillary Clinton (Huffington Post)