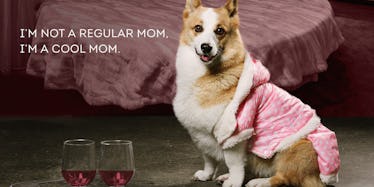 These Dogs Recreating Scenes From 'Mean Girls' Are Our Spirit Animals
DogVacay
October 3 marks a v. important day.
*Low-key shading you in the nicest, most casual way if this day is not written in hot pink marker on your calendar.*
You can't sit with us.
If you're totally clueless about what's going down today, I'm going to leave you with a couple of hints.
October 3 is a celebrated day that literally defines "fetch" in more ways than one.
Mission accomplished, Gretchen Wieners.
If you're still not catching on…
"On October 3rd, he asked me what day it was."
This is the exact day when mega hottie Aaron Samuels sat in math class and asked Cady Heron what day it was.
IT'S OCTOBER 3RD.
AKA, HAPPY "MEAN GIRLS" DAY, PEEPS.
People are posting the most epic "Mean Girls" memes and GIFs that will give you so much nostalgia it'll actually hurt.
Seven adorable dogs even got in on the action to commemorate this iconic day in the best way possible.
These sassy pooches from the pet-sitting company DogVacay straight up SLAYED it as they recreated our favorite scenes from "Mean Girls."
I really don't think I could have done this better myself, TBH. These dogs completely understand all of our feels today...
Most especially Regina George's mom, who's ready to celebrate with wine. She knows what's UP.
Too bad today isn't a Wednesday because you just KNOW what I'd be wearing.
*Slyly breaks out pink Juicy tracksuit while no one's looking.*
Here are the Plastics dancing to "Jingle Bell Rock."
And one of my personal favorite quotes from the movie deserves a major shoutout to Damien.
Remember when Janis cut out holes in Regina's tank top? OOPS.
LOL, our main girl Karin Smith though… Gotta love her.
Obviously, today wouldn't be complete without giving Glen Coco some loving.
I think it's safe to say these dogs are our spirit animals.
Oh, and it's critical we all pause what we're doing and watch "Mean Girls" at some point today… Am I right?!