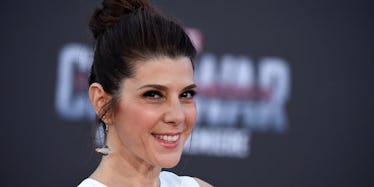 Marisa Tomei Reveals 'Spider-Man Homecoming' Scene She Wishes Hadn't Been Cut
Frazer Harrison/Getty Images
We all know how big and over-the-top live-action superhero movies can be. We have been trained to expect at least two action-packed hours worth of thrills, excitement, and drama from each new installment, and the latest release, Marvel's Spiderman: Homecoming, is no exception.
Of course, in order to deliver the best scenes possible, some stuff has gotta get cut. Recently, Marisa Tomei, who plays the pivotal role of Aunt May in the new Spider-Man, sat down with the Huffington Post to talk about one scene, in particular, she wishes hadn't been cut from the film.
The scene she's referencing would have happened early on, and it would have offered us a more nuanced look into the relationship between Aunt May and Peter. Tomei described the scene to HuffPo,
There was something going on in the neighborhood, and there was a little girl in distress, and I saved her, and Peter saw me save her, so you kind of saw that he got part of his ethics from her. Then I come home, and I don't even tell him that that's what happened, and, of course, there's all this stuff that he's not telling me. So he's like, 'How was your day?' And I'm like, 'It was fine,' but really I was shaking inside because of this whole crisis that had happened in the city. I'm kind of fibbing to him, and he's fibbing to me, and we're living in this house together, and it was a very interesting setup. I was quite disappointed that wasn't in there.
Of course, we would have loved to see this on screen because Marisa Tomei's Aunt May is one of the best to date (at least in my opinion). But, as director Jon Watts said of the Spider-Man script,
Writing the script is an evolving process, especially if you have more than one writer involved, but if anything you're always just trying to boil it down to the essentials.
All we can do now is hope that Aunt May will have a bigger role as the franchise moves forward, which isn't so hard to believe given that surprise ending to Homecoming.
Indeed, HuffPo asked Tomei about the final moment in the movie that made us all say "WTF," and where she sees the storyline going after that shocking twist,
That's what's so exciting about it, because now this movie-making creative challenge is posed. OK, so what are we going to do with these characters? Now she knows that, so what? And it hasn't been cracked before, so Kevin Feige's idea is you take one picture at a time. Now we'll figure that out. We've got that far, but it should be really fun.
Fun for who?! While you get all the inside scoop we'll be over here agonizing and ready fan theories until the next movie comes out. Oh well, I guess we can suck it up if we get to see more of Aunt May.