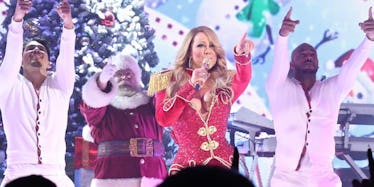 Mariah Carey's 'All I Want For Xmas Is You' Is Randomly Being Made Into A Movie
REX/Shutterstock
After thousands of years of living in a world without a Mariah Carey "All I Want For Christmas" movie, we are finally getting one.
I am Jewish, so Christmas doesn't mean much to me. I like the general vibe of late December, and since I live in NYC I get to experience the crap out of holly jolly seasonal stuff. As a holiday, though, it means absolutely nothing to me.
The closest I do get to feeling Saint Nick's warm embrace (ew, I regretted that the second I wrote it) is when I'm listening Mariah Carey's Christmas song, "All I Want For Christmas Is You."
It's maybe the catchiest Christ-themed song ever, including classics from the bible... the second part of the bible... the one with all of the D~R~A~M~A.
If you're like me, Mariah Carey released some pretty great news today.
"ALL I WANT FOR CHRISTMAS" IS GETTING AN ANIMATED MOVIE!!!! AHHHHHHH!!!!!!
The commercial starts with the obnoxiously accurate statement,
Every holiday season, there are traditions we can't live without. The tree, the stockings, the presents and Mariah Carey.
We then cut to a Carey who informs us of the movie while laying down on a couch with her dog.
In case you need any reminder, here is what her song sounds like:
Now that the flood gates are open, there are a bunch of other songs that should 1,000 percent be turned into full feature-length movies.
*NSYNC's "Merry Christmas, Happy Holidays," for instance.
With the exception of trying to book Justin Timberlake, this movie is a full-on slam dunk. A Christmas slam dunk.
"Jesus Take The Wheel"
This song already has a full story, a dramatic chorus, shocking action and an inspirational conclusion.
"Last Christmas"
The song absolutely sucks, but holy crap, would I watch a WHAM Christmas-based movie. I'd watch it sooo dang hard.
So get on this crap, Hollywood! This stuff is RIPE!
Citations: Mariah Carey Is Turning Her Hit Song 'All I Want For Christmas Is You' Into a Movie (People)