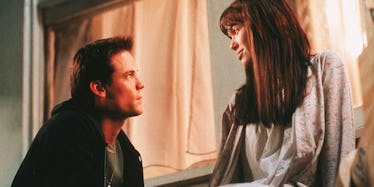 Mandy Moore Says She Was In Love With 'Walk To Remember' Co-Star Shane West
REX/Shutterstock
SING IT WITH ME:
So I lay ~my~ head ~back~ dooown And I lift ~my~ hands and ~prahhhy~ to be only-y yours I ~prahhhhhy~ to be only-y yours I kno-ow now you're my o-o-only ~hooope~
"A Walk to Remember" was a goddamn doozy back in middle school.
Suddenly, every girl was clamoring for a sweet, gentle, near-death kiss from Shane West... even his co-star Mandy Moore.
On the film's recent 15th anniversary, Shane and Mandy sat down with Entertainment Weekly, and the actress revealed her past crush.
She recalled,
Shane was so cool. Everything about him – the way he dressed, the little cigarettes that he smoked, and the music he listened to. He was the character to me and there was definitely a part of me that absolutely fell in love with him… I was just so caught up in the moment and the experience. Shane was so wonderful… I felt incredibly lucky right off the bat that I had someone who was as willing to work with me and who was patient and understanding. He was just the perfect partner for that.
OoOoOOoooOOoOooohhhhhhh!
Sharing his first impression of Mandy, Shane said,
She was coming from this pop background at that time — she had her song 'Candy,' and a role in the 'Princess Diaries' —  and for me I was into punk rock and so it was like completely opposites attract.
OH GOD, JUST GET MARRIED ALREADY.
Neither of you are married, so just do the damn thing. Make it official. Say what you mean to say, and other John Mayer lyrics that apply.
You have a second chance at true love and eternal happiness. Neither of you even have leukemia IRL. Do you know how lucky you are?
Look each other in the eyes and admit your butts feel sweaty for one another before it's too late.
You're each other's o-o-only ~hoooope~.
Citations: Mandy Moore and Shane West look back on A Walk to Remember 15 years later (EW)