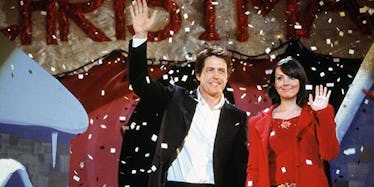 'Love Actually' Is Leaving Netflix Soon, So Christmas Is Going To Suck This Year
Universal Pictures
Well, boys and girls, it looks like Christmas is really going to blow this year. In Netflix's ongoing and persistent mission to literally ruin my life, the 2003 Richard Curtis directed holiday classic film Love Actually leaves Netflix in October. I know. I KNOW. Why don't you just murder me instead, Netflix? Because that's basically what you're doing to me with this soulless stunt.
This terrible, heartbreaking news was announced when the streaming service released its monthly list of what's coming and leaving Netflix in October 2017. I can tell you right now, Netflix subscribers are not going to like this list at all. First of all, this Love Actually tragedy. The movie officially leaves Netflix on Oct. 1, 2017. Seriously, who does that? You guys couldn't have waited until after the Christmas season to pull the plug? Don't you think that's what Jesus would have done? Now you're forcing me to find some terrible illegal stream that will likely buffer over all the best parts — like when Alan Rickman is trying to buy that necklace from Mr. Bean, or when Laura Linney is finally hooking up with Hot Carl, or when that 12-year-old girl sings "All I Want For Christmas" better than Mariah Carey did. And of course it won't buffer over the worst parts, like when that guy tells his best friend's wife that he loves her, subtly but affectively ruining their relationship forever, or when that same man creepily spied on Kiera Knightley on her wedding day, or basically anything from that particular storyline.
And if you think that's bad, just listen to these other beautiful films and TV shows that are leaving Netflix in October, too. Get ready to say goodbye to the following departing content on Oct. 1: 30 Rock Seasons 1 - 7, Across the Universe, Friday Night Lights Seasons 1 - 5, Malcolm in the Middle Seasons 1 - 7, My Name Is Earl Seasons 1 - 4, One Tree Hill Seasons 1 - 9, Prison Break Seasons 1 - 4, The Bernie Mac Show Seasons 1 - 5, The Shining, and Titanic. And that's not even all of it — those are just the ones I chose to share because I care about them the most. I never even got the chance to watch Friday Night Lights, even though I totally have clear eyes and a full heart. Why am I losing?!
But wait, in case you weren't depressed enough already — there's even more. The following movies and shows are also leaving Netflix in October, just for some reason not right on Oct. 1. They are: The Cleveland Show Seasons 1 - 4 (leaving Oct. 19), Bones Seasons 5 - 11 (leaving Oct. 21), Lie to Me Seasons 2 - 3 (leaving Oct. 27), Louie Seasons 1 - 5 (leaving Oct. 27), and Family Guy Seasons 9 - 14 (leaving Oct. 29). Basically, October is a slaughterfest for Netflix lovers.
If you want something marginally positive to take your mind off of all this bad news, let me remind that while Love Actually may no longer be on Netflix, there is still at least this adorable Love Actually reunion that the cast made this year. Actors Hugh Grant, Keira Knightley, Colin Firth, Liam Neeson, Bill Nighy, Andrew Lincoln, and Rowan Atkinson all reunited last March, 14 years after the film first hit theaters. The now-older cast joined with the film's writer-director Richard Curtis for NBC's Red Nose Day, and made a 15-minute reunion special to show what all your favorite Love Actually characters are up to now.
For some reason (I guess because everyone is determined to ruin Christmas), the full 15-minute special was taken off of YouTube. But, luckily, you can still watch it on Vimeo. Treat yourself to watching a 57-year-old Hugh Grant dance his way down the stairs to Drake's "Hotline Bling," to Bill Nighy pretending he knows who the Kardashians are, to Rowan Atkinson recreating the gift wrap scene, and to Thomas Brodie-Sangster looking both way older and somehow exactly the same. It's a Christmas miracle.